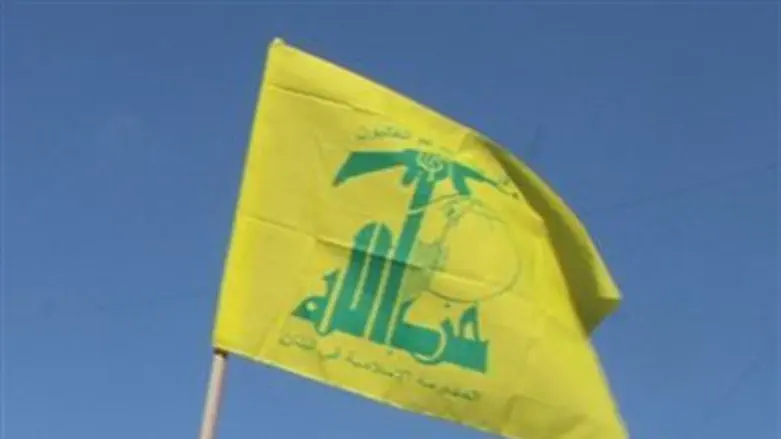 Hizbullah flag
AFP photo
Influential cleric Sheikh Yusuf al-Qaradawi, president of the International Union of Muslim Scholars, slammed on Sunday the Lebanese Hizbullah terrorist group as the "party of Satan" that seeks to "sow discord" among Muslims.
Speaking to Al Arabiya, Sheikh Qaradawi lamented his previous defense of Hizbullah and Iran at a time when major Muslim scholars, notably in Saudi Arabia, had voiced skepticism over the group's plotting in the region.
"When Hizbullah was fighting against Israel, I defended it. I stood against the Muslim scholars in Saudi Arabia, the most renowned scholars who warned us against Hizbullah," Qaradawi told Al Arabiya.
"They warned us against Hizbullah's plans to sow discord. They warned us against their ideology and intentions. I stood up and defended [Hezbollah]," he added.
He described the group as a "party of Satan" that seeks to sow discord in the Muslim land.
"Those who are fighting against the Syrian people and call themselves Hizbullah (Party of God) in Arabic are the Party of Satan," he told Al Arabiya.
The prominent Muslim scholar declared that Saudi religious scholars were "more mature and knowledgeable" about Hizbullah and Iran than him.
"I believed things were as they seemed to be. I wanted to unite all Muslims; Muslims fighting against Israel, how can I support Israel? But it seems that the scholars –may they rest in peace if they died, and may God bless them if they are still alive – they were smarter than me," he said.
"Those, whom I defended, went and killed their brothers in Syria. We thought that they were our brothers, but apparently they are not," he added.
Qaradawi made similar remarks at a rally in Qatar last week, calling on Sunni Muslims to join the rebels fighting the Syrian regime and carry out "jihad" against the Hizbullah terrorists who are backing him.
"Every Muslim trained to fight and capable of doing that [must] make himself available" to support the Syrian rebels, he said.
"Iran is pushing forward arms and men [to back the Syrian regime], so why do we stand idle?" Qaradawi added.
Initially Hizbullah said it wanted only to defend 13 Syrian villages along the border where Lebanese Shiites live, and the Sayyeda Zeinab shrine near Damascus, which is revered by Shiites around the world.
However, its terrorists later encircled Qusayr with regime troops before the launch of a withering assault on the strategic border town that is home to 25,000 people.
Qaradawi, who is a citizen of Qatar and close to the Muslim Brotherhood, in the past provided the religious sanction for the suicide bombing campaign against Israel. In January 2009 he claimed that Hitler had put the Jews in their place and that the Holocaust was "divine punishment."
He recently headed a delegation to Gaza, where he said that Israel has no right to exist, adding that nobody was allowed to cede "any part of Palestine."
The civil war in Syria, meanwhile, has turned into an all-out sectarian religious war which splits the Muslim world between Sunnis and Shiites.