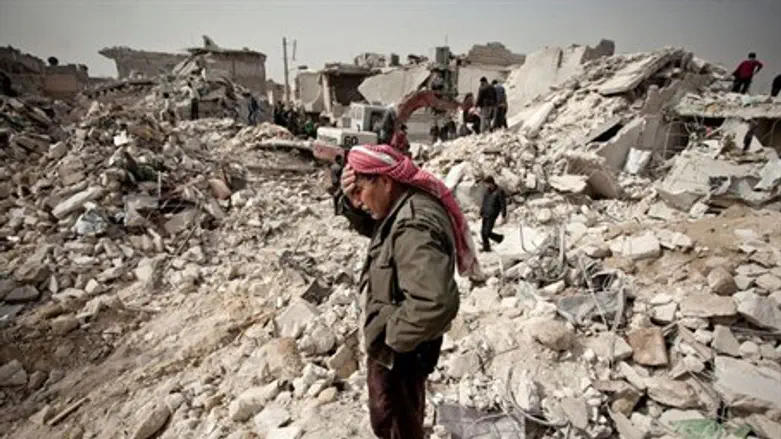 Destruction in Syria
AFP photo
The civil war in Syria is becoming a religious war which splits the Muslim world between Sunnis and Shiites, notes Arab affairs expert Dalit Halevi.
The rebels belong to Sunni Islam while the regime is Alawite, a branch of Shiism supported by Iran and assisted by fighters from the Iranian Revolutionary Guards, units from the Shiite group Hizbullah and Shiite volunteers from Iraq.
Rebels in Deir ez-Zor proclaimed war against the Shiites following their defeat in the battle in Al-Qusayr. In a video posted to YouTube they announce the launch of a sectarian war, while chanting "Death to the Shia" and recalling the 637 The Battle of al-Qadisiyyah, when Muslim Arab forces defeated the Persians.
Senior clerics in Saudi Arabia have backed the position of Sheikh Yusuf Qaradawi, who attacked Iran and Hizbullah over their support of Assad and warned of the Shiites' attempts to take over Sunni states. Fatwas issued in Saudi Arabia stipulate that all Muslims are religiously obligated to take part in the jihad in Syria, whether by giving money to jihad or by physically participating in the fighting against the Assad regime.
The Syrian army, with the help of Hizbullah, has managed to retake the city of Al-Qusayr which borders Lebanon, but this military success is not necessarily indicative of the regime's ability to reverse the situation, says Halevi. Many other areas continue to be under control of the rebel forces, who have the support of the population.
A rebel Sharia court has been established in Aleppo in northern Syria, and it often functions as a court martial for "traitors" and "criminals." A recently released video documented executions of two people who allegedly collaborated with the Assad regime and who were involved in acts of corruption and crime.
After the verdict of the Sharia court was read, the two were executed by a firing squad, as a message to all "government agents and traitors."
The video is difficult to watch, and so it was decided not to post it here.
(Arutz Sheva's North American Desk is keeping you updated until the start of Shabbat in New York. The time posted automatically on all Arutz Sheva articles, however, is Israeli time.)