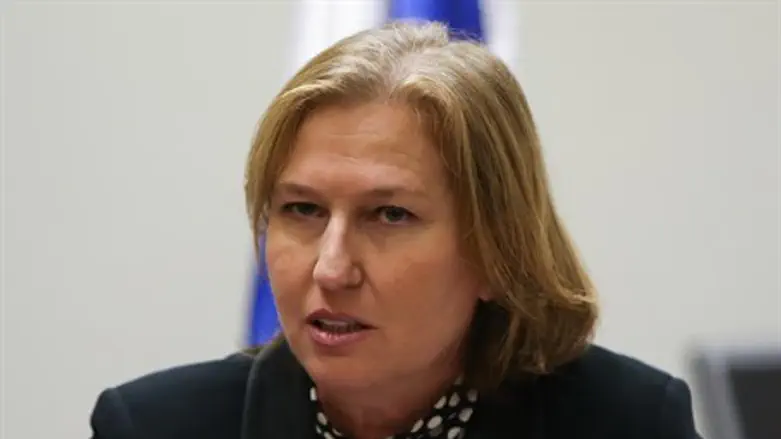 Justice Minister Tzipi Livni
Flash 90
Delaying the so-called "two-state solution" is an historical mistake, Justice Minister Tzipi Livni claimed on Monday.
Livni, who is in charge of the peace negotiations with the Palestinian Authority, spoke at the American Jewish Committee 2013 Global Forum in Washington, D.C.
She warned in her speech of "devastating consequences" for Israel in case U.S. Secretary of State John Kerry's latest attempt to renew peace talks fails.
"Time is working against those who believe that two states is the only Zionist way to maintain our identity," Livni said. "There are those who want to postpone this decision, but it would be an historic mistake of anyone who calls himself a Zionist."
The "two-state solution", claimed Livni, "is a pure Israeli interest. It's something we need for ourselves, not a favor to the Palestinians or to the President of the United States."
She was essentially echoing the words of Kerry, who spoke before her at the same forum and who warned that if efforts to renew peace talk fail now, they may never get another chance.
"We are running out of time. We're running out of possibilities... If we do not succeed now, we may not get another chance," Kerry said.
"We can't let the disappointments of the past hold the future prisoner. We can't let the absence of peace become a self-fulfilling prophecy," the top U.S. diplomat urged in one of his most passionate speeches to date on the search for peace.
"The absence of peace becomes perpetual conflict," he stressed, urging the Jewish forum to reflect on what will happen if his peace bid does not work.
In her remarks, Livni noted the "powerful alliance between the United States and Israel" and said that it "is critical to the success of recreating the pragmatic camp and restarting the negotiations. When the President talks about two states, he is not anti-Israeli. Even if there are disagreements between us, the United States would not endanger Israel's security."
She then called to isolate the Hamas terrorist group, which controls Gaza, and to hold talks with its rival faction Fatah, which is viewed by the West as "moderate", despite the fact that its head, PA Chairman Mahmoud Abbas, refuses to recognize Israel's existence as a Jewish state and glorifies terrorists who perpetrated attacks that killed hundreds of Israelis.
"We, the U.S. and the world need to isolate Hamas and hold the peace process with Fatah," said Livni. "We're trying to kickstart the process and it is not simple, but it's a necessity and a clear Israeli interest."
Following their speeches, Livni and Kerry met for a one-on-one meeting, after which it was confirmed that Kerry will return to the Middle East region within days, for his fifth trip to Israel since he launched his bid to kickstart the negotiations in early February.
The peace talks between Israel and the PA broke down in 2010, but not because of Israel. The talks broke down because PA Chairman Mahmoud Abbas refused to negotiate with Israel even though it agreed to his precondition and froze construction in Judea, Samaria and eastern Jerusalem for 10 months. Instead, he has continued to impose preconditions on talks with Israel, including a demand that Israel release terrorists who were jailed before 1993, freeze construction for a second time and even present a map of the future Palestinian state before any negotiations take place.
In recent weeks, Kerry has been pushing the sides to resume peace talks, and recent reports indicated that he has proposed that Israel freeze construction east of the 1949 armistice line so the talks can resume. Prime Minister Netanyahu has not responded to that suggestion.
Livni began her political career in the right of center Likud party, then moved to the left-centrist Kadima party with Ariel Sharon and when voted out of her position as its head, left the Knesset to return in the last elections with a new left-leaning party formed within a few days. The party, Hatnua, won six Knesset seats.