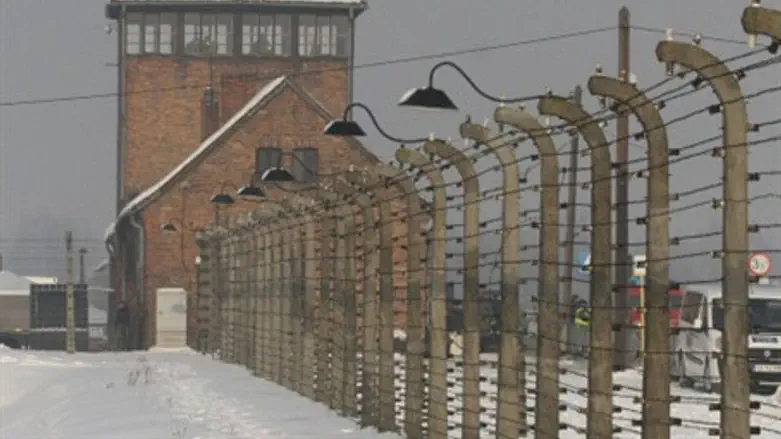 Auschwitz
Flash 90
Muslim religious leaders and scholars from around the globe issued a joint statement on Monday condemning any attempts to deny or justify the Holocaust, in which six million European Jews perished under Nazi Germany.
"We bear witness to the absolute horror and tragedy of the Holocaust where millions upon millions of human souls perished, more than half of whom were people of the Jewish faith," said a statement signed by 10 leading Islamic figures, according to the AFP news agency.
The signatories include the President of the Islamic Society of North America, Imam Mohamed Magid, and India's Chief Imam, Umer Ahmed Ilyasi.
"We acknowledge, as witnesses, that it is unacceptable to deny this historical reality and declare such denials or any justification of this tragedy as against the Islamic code of ethics," they said, adding they "stand shoulder to shoulder with our Jewish brothers and sisters in condemning anti-Semitism in any form."
Imams and Muslim intellectuals from Bosnia, India, Indonesia, Jordan, the Palestinian Authority, Saudi Arabia, Turkey and the United States knelt in solemn prayer for Holocaust dead at Auschwitz on May 22.
They offered the traditional Muslim "salat" prayers while facing south towards their holy city of Mecca, shoes removed, reported AFP. The visit to Auschwitz was part of an anti-genocide program which also saw them meet Holocaust survivors and their saviors in an emotional encounter at Warsaw's synagogue.
"With the disturbing rise of anti-Semitism, Islamophobia, and other forms of hatred, rhetoric and bigotry, now more than ever, people of faith must stand together for truth, peace and justice," their Monday statement said, according to AFP.
"Together, we pledge to make real the commitment of 'never again' and to stand united against injustice wherever it may be found in the world today," it concluded.
Of the six million Jews killed by the Nazis during World War II, a million were murdered at Auschwitz-Birkenau, mostly in its notorious gas chambers, along with tens of thousands of others including Poles, Roma and Soviet prisoners of war.
Operated by the Nazis from 1940 until it was liberated by the Soviet Red Army on January 27, 1945, Auschwitz was part of a vast and brutal network of death and concentration camps across Europe set up as part of Adolf Hitler's "Final Solution" of genocide against an estimated 10 million European Jews.
Dr. Mario Silva, chair of the International Holocaust Remembrance Alliance, told Arutz Sheva last week that Holocaust denial as a form of anti-Semitism is still prevalent and must be fought.
"It's sad to say it, but [Holocaust denial] is still a problem," he said. "There are still some regimes – certainly we know the more prominent case of the President of Iran and his Holocaust denial – but there are other political groups in the world that are popping up and are denying the Holocaust.
"We have to be vigilant and condemn these groups, and also make sure that domestic and national governments are speaking out against this type of behavior and denial of the Holocaust," he added.
PA Chairman Mahmoud Abbas' doctoral dissertation, The Connection between the Nazis and the Leaders of the Zionist Movement 1933 - 1945, is considered  Holocaust denial by critics, notably the parts disputing the accepted number of deaths in the Holocaust as well as the accusations that Zionist agitation was the cause of the Holocaust.