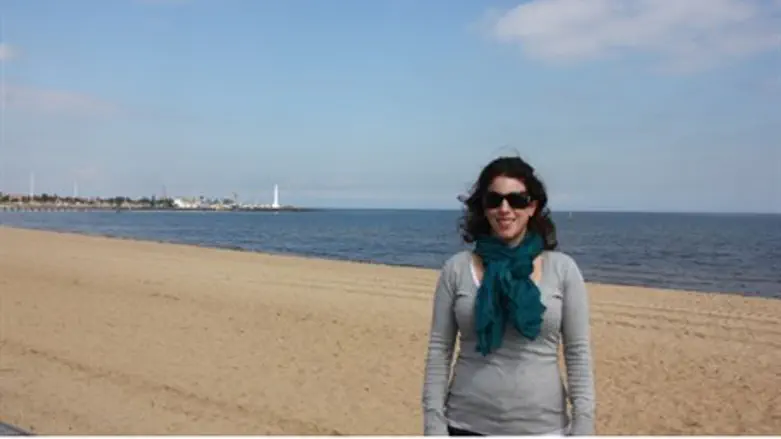 In the Promised Land
Nefesh B'Nefesh
Getting tension headaches at the thought of financing a degree? Wondering how to use a degree you've already earned that doesn't reflect your actual job skills? More and more students and young professionals are thinking Israel and tasting success.
It's no news that U.S. tuition costs have skyrocketed. According to Forbes.com, the college education inflation rate has gone up almost 500% since 1985. The current recession hasn't helped either. Young people are searching for a better life and finding it in Israel. In 2012, 1,577 young professionals and students made Aliyah with Nefesh B'Nefesh. This represents a 13% increase since 2009, and the 2013 stats are expected to be even higher. Nefesh B'Nefesh is following the trend and provide the resources, assistance and guidance that is helping this increasing number of Jews ages 18-35 to consider their options and build their future in the Jewish homeland.
"We've got a bumper crop of young people making Aliyah," reports Marc Rosenberg, Director of Pre-Aliyah Counseling at Nefesh B'Nefesh. Rosenberg cites the Birthright and Masa programs, plus a greater tendency towards taking off a gap year to do a Young Judaea or yeshivah program, as possible causes."Israel is a dynamic place with a Jewish majority," he reflects. "You can live a life of meaning here and your sense of identity won't be challenged the way it can be living in the Diaspora. In addition, college grads can get master's degrees here without putting themselves into $100,000 debt, and they'll find jobs."
Seattle-native Tali Gourarie, 27, made the move to Israel and is enjoying the warmth of her new life in sunny Tel Aviv, and her Israeli Masters degree. Gourarie grew up with a strong Jewish identity and was active in Young Judaea both as a camper and as a member of the leadership board. Gourarie made Aliyah in February 2008, a year after graduating college, and enrolled in a Political Science Master's Program at Hebrew University two and a half years later. Why? One reason was that she could afford to do it. As part of the immigrant rights package, the government offers tuition-free undergraduate and graduate degrees to newcomers who meet the following criteria: Enrollment in a recognized Hebrew-language academic program within three years of Aliyah, by immigrants under age 27 for undergraduate study and age 30 for graduate school. "I was allowed to hand in all my papers in English," she explains. "And whenever we had Hebrew reading assignments they gave me alternative material. They were never making exceptions just for me," Gourarie is quick to point out. "One third of my class were English speakers."
Can young Olim who don't have a knack for languages also save themselves tens of thousands of dollars in tuition? Yes, within certain limitations. There are at least ten private institutions offering studies entirely in English. Olim can take the approximately $3,000 of tuition money that the government would have paid for a public Hebrew program, and use it towards private school tuition, which ranges from $6,000 - $25,000 per year. The wide range of degrees on offer include: Creative Writing, Jewish Education Leadership, and Computer Science.
Whether you study in Hebrew or in English, getting your degree in Israel can save you time, money, and help you build up a professional network before you've even stepped foot outside the classroom. To maximize the benefits, Gourarie urges Olim students to do volunteering, internships or jobs related to their degree. Unlike the North-American set-up where high school graduates often spend four years sampling liberal arts before settling upon a professional direction, Israelis head there from day one. Law school is an undergraduate degree and even medical school begins then, saving future doctors four years of tuition and time. "Another incentive was that here most people in Master's programs work full-time. The studies are not as intensive as in the U.S.," she observes. Gourarie even got to study in Austria for free simply because she was a (newly-minted) Israeli citizen. "Lots of European organizations run free or subsidized study programs in conjunction with Israeli universities that are specifically for Israeli students."
"Israelis attend university to train for professions and are therefore very focused in their studies," says Rosenberg. "Most have already done the army, so they're older and very driven. That's the mentality here and it's very vibrant. Definitely worth exploring." The market value of an Israeli degree is also a factor to consider. "Academic inflation, where a person needs higher and higher degrees to get a job, hasn't hit Israel yet," Rosenberg comments. "For example, someone with a Bachelor's in social work can accomplish a lot here, without having a Master's degree."
Not surprisingly Israeli employers share the pragmatic mindset of Israeli academia. More important than where you went to school or which degree hangs on your wall is whether you have the skills and the experience to do the job. "It's a skill-based economy," Rosenberg explains. "So if you have knowledge of databases and SEO, employers don't care if you studied English Literature in college. They're looking for skills and for personality."
Yehuda Kohn is one of the many young professionals whose success gives the NBN staff much pride. This past August, Kohn came on Aliyah from Bergenfield, N.J. with his wife Naomi and their four young children. Despite having a highly specific profession (wine distribution) and moving to Israel without a job in hand, Kohn and family have found their place in Israel and are all thriving. How did everything fall into place?
Prior to Aliyah, Kohn, 31, was a regional manager for out-of-state wine markets. The Kohns were members of a vibrant Jewish community but they dreamed of coming on Aliyah. "It was a Catch-22 situation," Kohn explains. "I wanted a new job in Israel but my job in the States was so unique that if I had tried to look for work my boss would have heard about it, and I wasn't ready to leave yet." After a few one-on-one meetings and group information sessions with NBN staff, he developed a game plan. "We finally decided that if we wanted this, we needed to set an Aliyah date and work towards it. We gave ourselves a year and a half, ample time for getting passports, selling our home, settling business, packing, and networking in whatever ways I could. Mentally, setting a date got us psyched up and able to prepare properly."
On the professional front, Kohn had two full-time job offers on the table a month after his arrival. He is now the export manager at Tabor Winery, responsible for directing all international business, and attributes his job search success to an Israeli in the food industry who he met once at a trade show in the U.S. They stayed in touch, and ultimately that Israeli recommended him for the position.
Kohn has tips for young people who are still in the wishing phase. "Aliyah means leaving your comfort zone in one way or another, so you need to come with an open mind. It could mean living in a different kind of community or working in a different segment of your profession, but different doesn't mean bad. If this is your dream and you have the opportunity to do it at a young age, you're giving your family the biggest gift you could ever give them. So many people want to come but life gets in the way, or it seems scary so they push it off. When you commit and build towards it, Aliyah is definitely a feasible goal."
This year's bumper crop of young Olim couldn't agree more.
Explore your career in Israel, for more information click here.