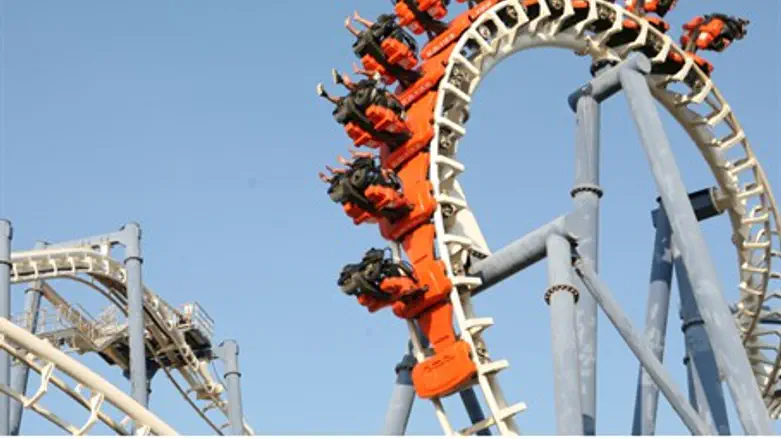 Superland
Israel news photo: Flash 90
The popular Superland amusement park in Rishon Letzion is under attack in the media and in the political arena for a policy of keeping Jewish and Arab school classes apart, but independent-thinking parents and teachers explained Thursday why they feel the policy is justified and necessary.
Arutz Sheva has spoken to parents of children who visited the park over the past year. They said that the Arab children and youths in the park have a  habit of provoking fights with the Jewish kids, and that they behave similarly in other parks in Israel.
A teacher who did not want to be identified said the Arab groups have a marked tendency of behaving "with insolence and brutality," turning the Jewish kids' fun days into violent nightmares.
"We arrive at the parks with dozens of children," the teacher said. "Arab groups often begin to provoke the Jewish kids. The Arab youths curse, swear and try to provoke a violent fracas. We need to support Superland in its decision. We cannot surrender to the extreme Left in its attempt to harm the park, which simply wanted to have separate days in order to avoid unnecessary violence."
Another teacher told Arutz Sheva about similar experiences at the Kiftzuba children's amusement park near Jerusalem, where there have been numerous violent fights between Jewish and Arab youth lately. "The Arab students swear and curse and behave rudely toward the Jews. We can't have fun days if the parks are mixed. That is the truth and there is no other truth."
"The leftist media is trying to twist the truth, as it always does, and present a picture of poor Arab kids who were not allowed to enter this park or another, but what I said is the truth and this is the real picture. It's not a matter of racism."