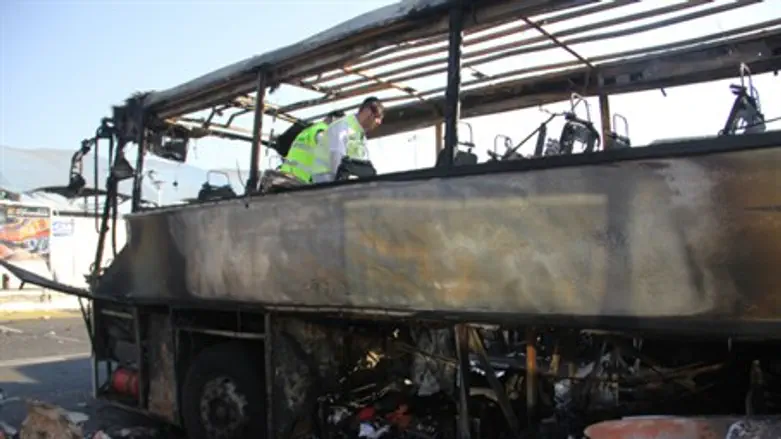 Burgas bombing
Israel news photo: Flash 90
A memorial will be erected in the Bulgarian seaside town of Burgas, where a bus bombing at Sarafovo airport killed five Israeli tourists last year.
The July 18, 2012 attack, which is widely blamed on the Hizbullah terror organization, resulted in the murder of five Israelis, including a pregnant woman, a Bulgarian bus driver, and the alleged perpetrator of the attack.
Relatives and friends of the victims proposed the idea of the memorial.
According to reports, they will come to Bulgaria for the unveiling of the memorial on the anniversary of the attack.

Representatives of the Bulgarian and Israeli governments are also set to attend the ceremony.

For years, most EU member states have resisted pressure from the U.S. and Israel to label Hizbullah as a terrorist organization. The EU has announced that it may do so, and last Friday, the deputy chief of Hizbullah warned the EU that doing so would be making a "big mistake."
A top Hizbullah terrorist, Sheikh Naim Qassem told the Al-Mayadeen television network that the threat of being labeled as a terrorist "do not concern" or worry the group. He did not elaborate.
The EU has so far been reluctant to add Hizbullah to its list of terrorist organizations, but Britain this week filed a formal request to blacklist what is called the "military wing" of the Lebanon-based group.
The request will be discussed at closed-door talks June 4 of a committee overseeing the EU list of people and groups subject to its asset freezing regime.