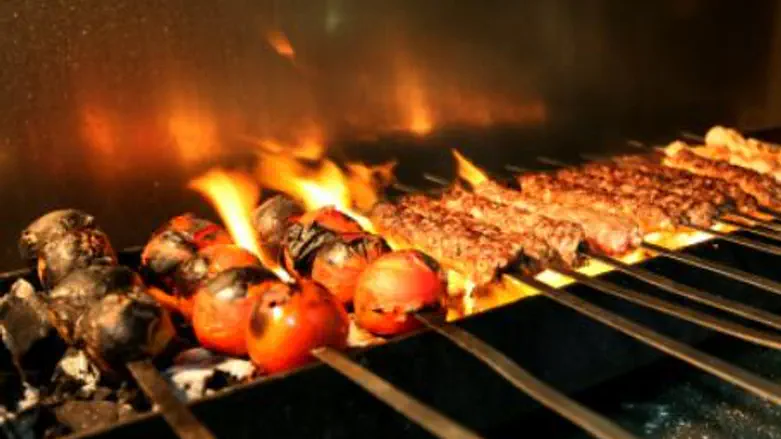 Restaurant (illustration)
Israel news photo: Flash 90
The Israeli owner of a restaurant in Scottsdale, Arizona, has said that he is "no sucker" after a disastrous experience on a reality television series resulted in him being attacked by online users.
The restaurant, Amy's Baking Co., is owned by Samy Bouzaglo, an Israeli, and his American wife Amy. They recently invited the popular makeover show "Kitchen Nightmares" to the restaurant after years of bad online reviews from unhappy customers.
The Bouzaglos complained on the show that they were the victims of online bullying, but host and celebrity chef Gordon Ramsay agreed with the bad reviews, declaring the food at the upscale pizzeria undercooked and poorly seasoned.
Among other things, Ramsey said that the ravioli had smelled "weird," that a salmon burger was overcooked, and that a fig pizza was too sweet and arrived on raw dough.
During filming, the couple was seen yelling insults at unhappy customers, with Samy Bouzaglo also saying that "I just tell them to leave the restaurant and don't come back."
The couple said during the episode that they keep all tips because they do more work than their wait staff.
The Bouzaglos got angry with Ramsay over his comments and he left the restaurant before making it over. He told them, "You need thick skin in this business," noting that it was the first time in the history of the show that he was unable to change a restaurant.
The restaurant temporarily closed after the episode aired and hundreds of "Kitchen Nightmares" fans began leaving angry comments on its Facebook page. It reopened last Tuesday.
Responding to the incident in an interview with Channel 10 News on Sunday, Samy Bouzaglo said, "I'm not a sucker and will not die a sucker. I respect my employees who receive a good salary. I expect others to respect my food and myself and not to make fun of me.
Meanwhile, a report in the Arizona Republic which appeared a day after the restaurant's reopening said that Bouzaglo is facing deportation.
Bouzaglo's lawyer said the case against his client started two years ago and nothing to do with the television show.