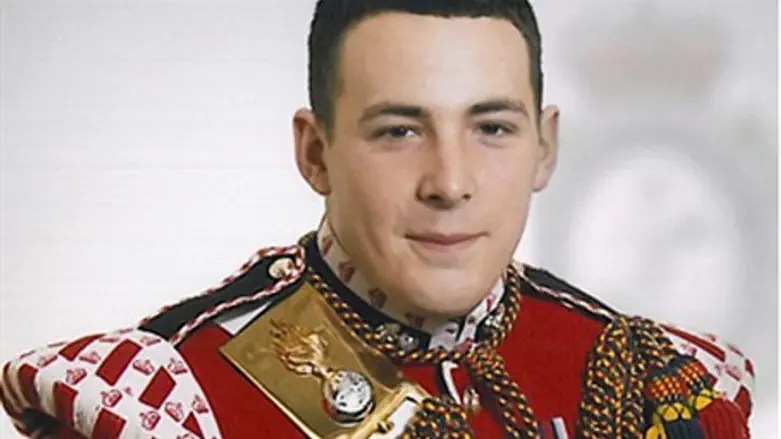 Drummer Lee Rigby
Reuters
There is shock and fury in Britain following the gruesome murder of a soldier by Muslims in Woolwich, in southeastern London, on Wednesday. The murdered man was Drummer Lee Rigby, of the British Army's 2nd Battalion.
"There is rage in London; the feelings are very bad," a Jewish resident of Golders Green told Arutz Sheva. "London is having a hard time dealing with this kind of cruel terror. Muslims beheading a soldier – that is an unforgivable deed."
There were riots and confrontations in different parts of London Thursday, and two mosques were reportedly attacked.
Prime Minister David Cameron said the attack was "truly shocking" and cut short a visit to Paris and returned to London in order to convene the security cabinet, known as Cobra. Home Secretary Theresa May described the attack as "sickening and barbaric."
Police have confirmed that two men have been arrested in connection with the brutal murder.
In recent years, Muslims have become dominant in several neighborhoods in London, to the chagrin of the native locals, and there have been reports that fundamentalists have been trying to enforce Sharia law in the neighborhoods.
In the hours following the attack, around 250 supporters of the anti-Islamist English Defense League (EDL) gathered at Woolwich Arsenal train station. According to the Huffington Post, the group hurled bottles and became involved in minor skirmishes with the police, but later dispersed without any arrests being reported.
EDL leader Tommy Robinson was among the crowd and explained: "They're chopping our  soldiers' heads off. This is Islam. That's what we've seen today... Our next generation are being taught through schools that Islam is a religion of peace. It's not. It never has been. What you saw today is Islam," he added. "Everyone's had enough."
The attack was captured on video, and clearly shows the terrorists with blood on their hands and holding what appears to be a large knife or machete.
Eyewitnesses said that the attackers shouted Islamic slogans as they beheaded the man in broad daylight. The attackers were shot by police and arrested, and then taken to a London hospital for treatment. A television broadcast showed one of the attackers saying that they were Muslim fighters who "would never stop attacking you. We are doing this because Muslims are dying every day."