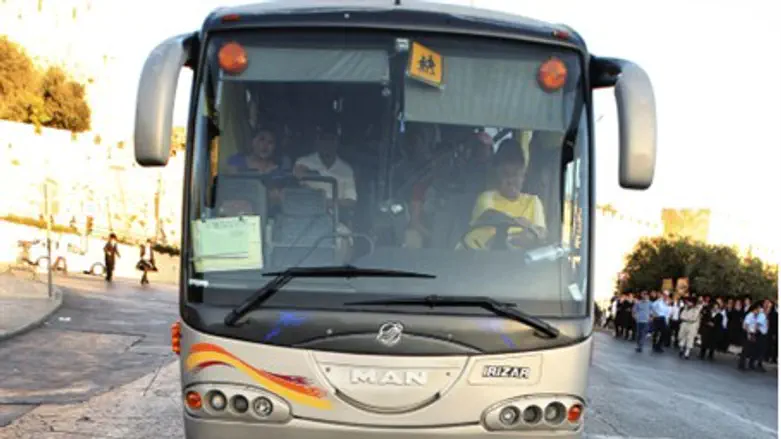 Haredi man and bus (file)
Flash 90
A plan to institute a 24 hour a day, seven day a week bus service in the Haifa area is set to begin this weekend. The plan would include instituting bus service on Shabbat in many areas in Haifa and its suburbs.
In the first stage of the program, set to begin this weekend, several lines will begin running 24 hours a day. The second stage, set to begin in August, will see regular bus lines and minibuses run on several routes un Haifa, the Krayot suburbs, Nesher, Akko, and other areas.
Religious leaders in Haifa and around the country are up in arms. Rabbi Tuvia Schlesinger, the Chief Rabbi of the suburban town of Kiryat Ata, told Arutz Sheva that the changes will cause mass Sabbath desecrations in Haifa. "Although there is already some public transportation in Haifa on Shabbat already, it is very limited, serving just a few hundred passengers. The intention here is to expand service and make it available to tens of thousands of people, around the clock, including Shabbat. They are clearly trying to remove religion from the public life of the city," he said.
Clearly, the Transport Ministry is using Haifa as a test case, Rabbi Schlesinger said, and if they get away with mass Sabbath transportation there, they will expand it to other cities – effectively turning the Sabbath into a weekday.
Ironically, he said, the first company to implement the plan – the Dan Bus Company – has a large number of hareidi Jewish customes. Rabbi Schlesinger said that the religious and hareidi public have an opportunity to make their voices heard, by contacting the heads of the company and persuading them that they are doing the wrong thing. And if that doesn't work, he said, hareidi passengers should simply stop riding Dan buses.
"It is untenable that a company that makes a large chunk of its money from hareidi Jews in Bnei Brak would use that money to finance a project for Shabbat desecration in Haifa," Rabbi Schlesinger said. "The time has come for all Sabbath-observant Israelis to say 'enough.' I call on the mayor of Bnei Brak to inform the Dan company that if it does not halt its plans, hareidim will simply stop using their services."
In a statement, the Dan company said that it "faithfully served the hareidi public and respects it fully. A subsidiary of Dan won a tender to operate lines in the Haifa area, and as part of the tender the company must operate one bus line on Shabbat. The Dan company observes the law and will undertake its responsibilities, while at the same time ensuring that the feelings of the hareidi public are respected. The buses that do run on Shabbat will be operated by non-Jews," the company added.