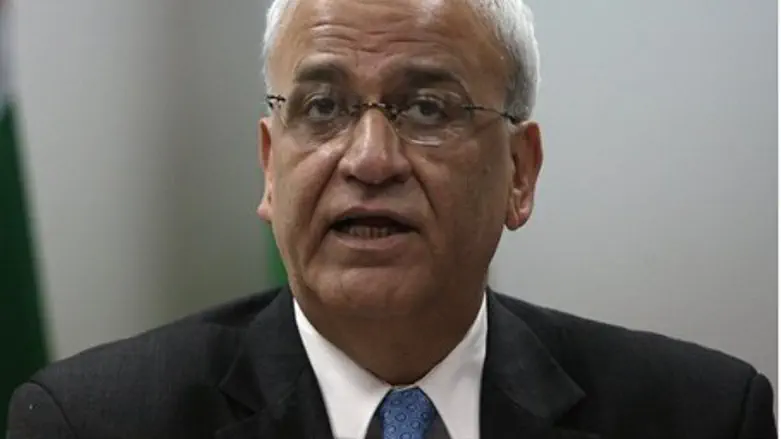 Saeb Erakat
AFP/File
The PLO's chief negotiator, Saeb Erekat, said on Monday that while the PA has done all the legal work necessary to join 63 UN agencies, conventions and treaties, it will hold off on applying for now in order to give U.S. efforts to resume peace talks a chance to succeed.
At the same time, he slammed Israel as an "apartheid state" – a longtime accusation by PA leaders against Israel, despite them having clarified that if a Palestinian state is ever established, no Israeli citizen will be allowed to set foot inside, while demanding that Israel allow thousands of Arabs who fled their homes in 1948 to enter Israel as part of a peace agreement.
U.S. Secretary of State John Kerry has been pushing Israel and the PA to resume stalled peace and will be returning to Israel this week as part of these efforts.
Erekat said the PA has now completed the "instruments of accession" to join 63 UN specialized agencies, conventions and treaties, but they haven't been submitted because "mainly we wanted to give Obama and Kerry a chance."
The UN General Assembly upgraded the PA to the status of non-member observer state last November, making the entity eligible to apply to these institutions.
"We are exerting every possible effort to see that Mr. Kerry succeeds," Erekat told a UN committee in New York. "No one benefits more (from) the success of secretary Kerry than Palestinians and no one loses more (from) his failure than Palestinians."
At the same time, he once again called on Israel to stop construction in Judea, Samaria, and eastern Jerusalem, a longtime precondition of PA Chairman Mahmoud Abbas for peace talks.
"Israel must make the choice — settlements or peace," Erekat said, accusing Israel of being an apartheid state.
"Today in the West Bank, including East Jerusalem ... I can sum up the situation with one word - apartheid. Worse than that which existed in South Africa," he claimed, adding, "Today Israel justifies its apartheid by the term security."
If Kerry succeeds, Erekat said, Palestinian Authority Arabs will achieve their independence and freedom peacefully, but if he fails "we are going deeper into the evil apartheid that exists in the West Bank and East Jerusalem."
Direct peace talks collapsed shortly after they were launched in September 2010 because Abbas refused to talk to Prime Minister Binyamin Netanyahu, despite the fact that Israel imposed a ten-month construction freeze under U.S. pressure.
In his latest precondition, Abbas recently told Kerry that Israel should freeze construction in Judea, Samaria and eastern Jerusalem and release terrorist prisoners, especially those arrested before the 1993 Oslo Accords, before any resumption of peace talks.