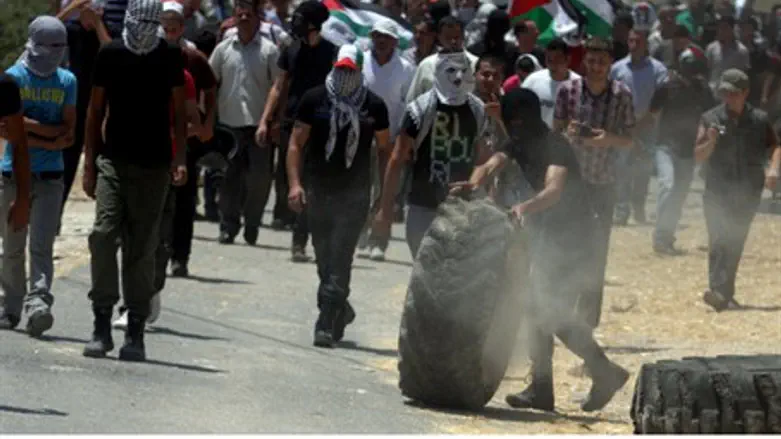 Arab rioters (archive)
Flash 90
The IDF is increasingly determined to stop Palestinian Authority-resident Arabs' attacks on Israeli communities, and is willing to use live fire if necessary, says Yehuda Dana, security chief for the Beit El region.
Speaking to Arutz Sheva, Dana said there has been an escalation in Arab attacks on Israeli civilians in recent months. "Their brazenness has crossed the line – they are doing what they didn't do for years, like reaching the fence of an Israeli community and throwing rocks into the community, causing injuries," he related.
Until now, Arab rioters were handled "with silk gloves," he said, with soldiers restricting themselves to non-lethal means of riot dispersal such as tear gas and rubber bullets.
"Unfortunately, the Palestinians realized that they were facing an opponent that could not defeat them," he said.
However, he said, things are changing. "There is a change in the decisiveness, in the determination to end this phenomenon… I hope the other side realizes that the 'silk glove treatment' is over."
Dana gave the new commander for the Judea and Samaria Division, Brigadier-General Tamir Yadai, much of the credit for the change. "We met with the new District Commander and the conversation was positive. I hope the commander's spirit reaches every last soldier," he said.
"Yadai made it clear that rocks will not be allowed to cross the fence around communities, and that it is unthinkable that residents or property be damaged," he explained. "He emphasized that he would take a firm approach in response to such incidents."
Residents of the Beit El region were pleased to see IDF troops taking a strong stance against rock attacks and firebombing, Dana said, but are waiting to see if the situation will last. "Ultimately the results will speak for themselves," he concluded.