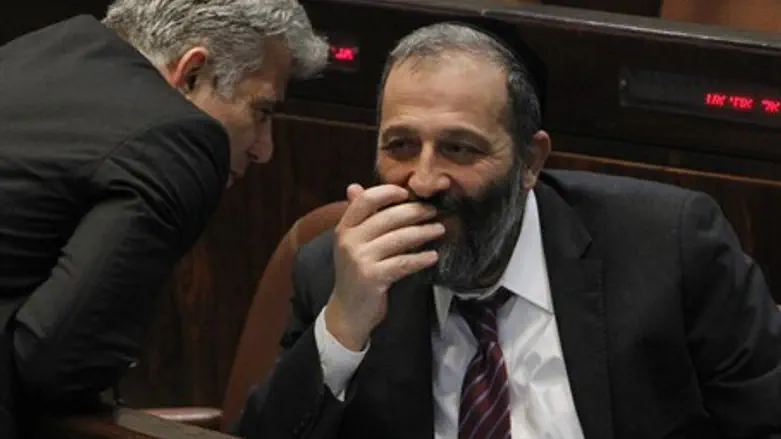 Finance Minister Yair Lapid and MK Aryeh Deri
Flash 90
Finance Minister Yair Lapid accused Shas chairman Aryeh Deri of lying in the aftermath of the budget vote in the Cabinet. Deri had presented a last-minute decision by Lapid as a victory by the Sephardic-hareidi Shas over Lapid.
The budget was to include the cancellation of a regulation known as "9-3-aleph," which provides funds to Shas's El Hamaayan educational network, and the establishment of a government-controlled hareidi educational network instead.
Lapid decided at the last minute to postpone the cancellation by six months, however. The reason, he explained on his Facebook page, is that it will take some time before the governmental network is ready to operate, and he did not want to cancel El Hamayan's funding before an alternative was ready.
Lapid told his Facebook followers that when he decided to postpone the cancellation of te funds, he instructed Education Minister Shai Piron to inform Deri of the decision. Deri then "took us for a ride and told the media that we hgad surrendered to him and cancelled the cut to El Hamaayan," he said.
"The truth is, I can't understand him," Lapid added. "Not only is this a clear lie, he has also prevented the possibility that we will ever try to cooperate with him on matters that are important to his sector."