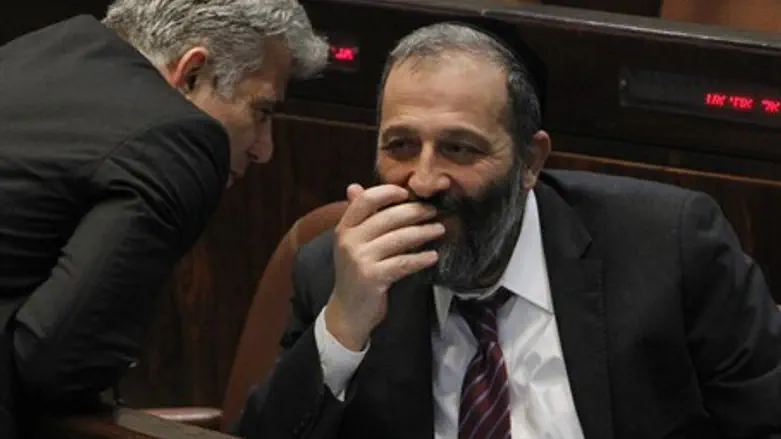 Finance Minister Yair Lapid and MK Aryeh Deri
Flash 90
The budget of the Shas party's network of schools will not be cut for now.
Shas chairman MK Aryeh Deri, Education Minister Rabbi Shai Piron and Finance Minister Yair Lapid agreed on Monday evening that the planned cuts in the network of schools, which is called "Maayan Hahinuch HaTorani", will be postponed for the time being.
The three also decided that the issue will be discussed again after the Ministry of Education sets up a state-sponsored education system for hareidim next year.
Sources close to Piron noted that "this decision joins a series of historical decisions, including the requirement to teach core subjects to hareidi students, among others."
"The Minister of Education was authorized to submit a comprehensive law regarding the core curriculum within six months. The agreement with the chairman of the Shas party does not affect the plan to implement the study of core subjects throughout the entire Israeli education system," noted the sources.
Deri welcomed Monday's agreement and said that "the cancellation of the cuts by the Minister of Finance is the beginning of a dialogue which is important and very necessary for all of us at this time."
The Hesder yeshivas and Zionist high yeshivas expressed deep concern earlier on Monday over the proposed budget for 2013-14.
The yeshivas' leaders note that their budgets have already been negatively affected by the fact that approval of the new budget has been delayed since the beginning of the year. They also say that the proposed cuts do not differentiate between religious-Zionist and hareidi non-Zionist yeshivas.
The Finance Ministry wants to slash the budget allotted to yeshivas by over 40% in 2013-14. About 200 million shekels are to be cut in 2013 and another 400 million in 2014.
In addition, support for yeshivas that take in students from abroad, such as Machon Meir, will be cut. The total planned cut for this year is about 650 million shekels, while the total annual budget for the Yeshiva Department is about 1 billion shekels.