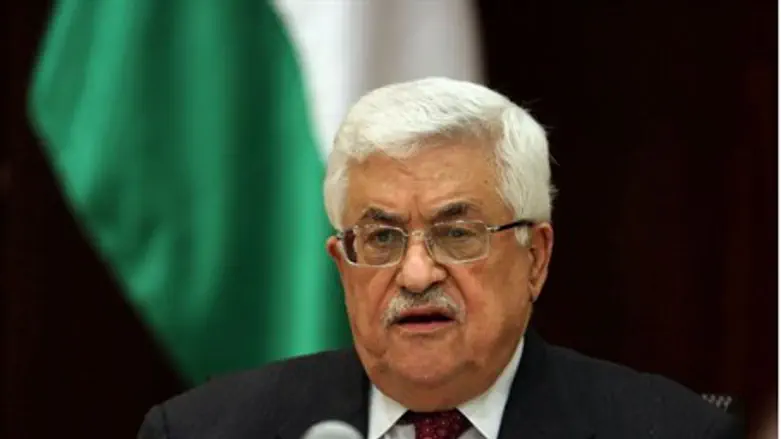 Mahmoud Abbas
AFP photo
Chinese president Xi Jinping on Monday discussed with Palestinian Authority Chairman Mahmoud Abbas, who is visiting Beijing, a four-point proposal for peace talks with Israel, the Bethlehem-based Ma'an news agency reports.
In a news conference at the Chinese embassy in Ramallah, the deputy Chinese ambassador to the PA said the Chinese proposal focused on an independent Palestinian state, negotiations as the only way to peace, the principle of "land for peace", and guarantees the international community should provide for the progress of the peace process.
"It is an inalienable right of the people of Palestine to build an independent state, with Jerusalem as the capital and based on the 1967 boundaries, with full sovereignty, which is the key to the settlement of the Palestinian question," the Chinese news agency Xinhua quoted President Xi as having told Abbas.
Xi added that Israel's right to exist and its legitimate security concerns should be fully respected.
Abbas later met Premier Li Keqiang, who pledged Beijing would encourage more businesses to invest in Palestine, help with infrastructure, train more people and strengthen people-to-people exchanges.
Abbas' three-day trip to China ends Tuesday, overlapping with a five-day visit to China by Israeli Prime Minister Binyamin Netanyahu that began in Shanghai on Monday and will end in the capital.
China said last week that it is willing to set up a meeting between Netanyahu and Abbas if they wish to meet while visiting the country.
"If the leaders of Palestine and Israel have the will to meet in China, China is willing to offer necessary assistance," a spokeswoman for the Chinese Foreign Ministry, Hua Chunying, told Xinhua.