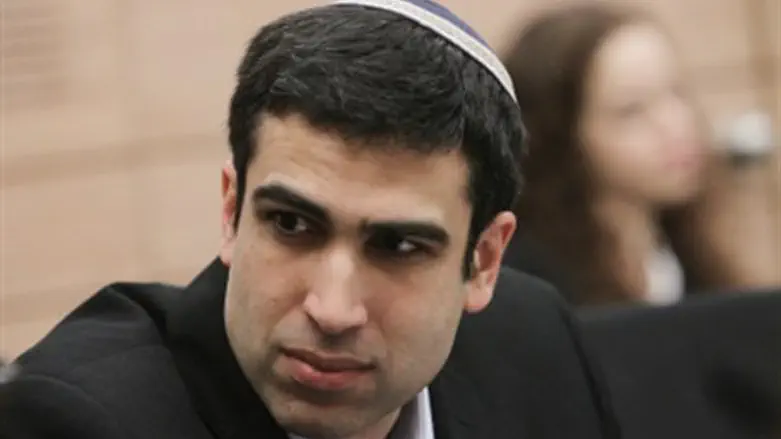 MK Yoni Chetboun
Israel news photo: Flash 90
For those tired of the bad rap IDF soldiers often get: The Ministerial Law Committee on Monday approved for legislation a law that would allow soldiers or citizens to file complaints against individuals or groups who disseminated libelous information or lies about IDF soldiers. The complaints can be made by anyone on behalf of any soldier, or on behalf of the army itself.
Currently, such cases may be brought only with the approval of the Attorney General. The new law would eliminate that requirement. The law was developed by MK Yoni Chetboun (Bayit Yehudi) in response to the movie "Jenin, Jenin," in which IDF soldiers were falsely portrayed as massacring Arabs. "There was a 'hole' in the law, and many took advantage of it," he said. "Those who insult and denigrate Israel and try to deligitimize it in the international arena, attempting to bring about boycotts of Israel and its citizens, have used the IDF as an easy target for their complaints. As a result of this legislation, the fighters featured in movies like 'Jenin, Jenin' would be able to sue the creators of the movie for libel. It's time to allow IDF soldiers a say in the public debate," he added.
The law was approved by all ministers on the panel, except for Justice Minister Tzippy Livni and Health Minister Yael German. Both said that the IDF was "strong enough" to defend itself without the need for Knesset legislation.
The Im Tirzu organization, on the other hand, praised the law. "Today, an important step was taken in the fulfillment of the unwritten contract between the people and the IDF, whereby soldiers are prepared to sacrifice their lives in order to enable Israelis to live, and for the state of Israel to be sustained. In return for this sacrifice, civilian society and elected officials respect those who make those sacrifices, as they act from a deep sense of morality. The Knesset, in providing legal recourse for soldiers, has taken a very moral step," the group said in a statement.