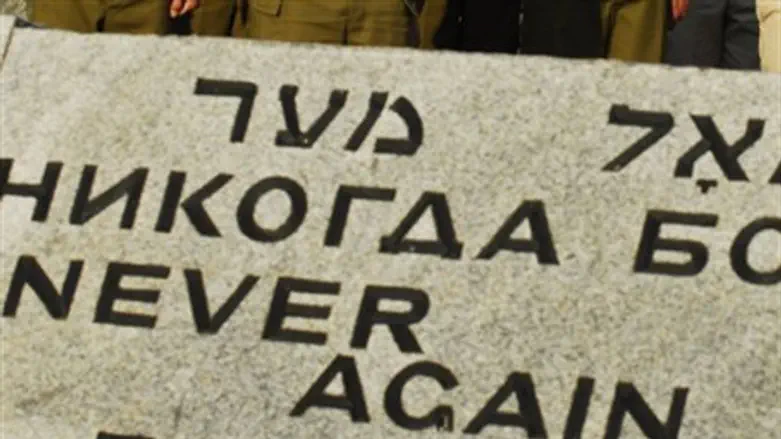 Holocaust memorial
Flash 90
Leaders and Nazi camp survivors made a stirring appeal to combat racism as they commemorated the liberation of the Mauthausen concentration camp in Austria on Sunday, urging "never again."
"We who weren't there cannot and may not forget. The numbers engraved on the arms in Auschwitz are engraved on each of our souls," said Justice Minister Tzipi Livni, who represented Israel at the commemoration, according to AFP.
Livni accompanied her father-in-law Moshe Spitzer, himself a survivor of Mauthausen, on the trip.
"I came today as justice minister of the Jewish state to say together with you 'never again,'" Livni told the international crowd.
"It is not for us that we do not want the world to forget, it is for the future of mankind," she added.
The 68th anniversary of the camp's liberation by the U.S. army coincided with the inauguration of a new visitor center at Mauthausen, and was marked by a large ceremony attended by the presidents of Poland and Hungary, Bronislaw Komorowski and Janos Ader, Serbian Prime Minister Ivica Dacic and Russian State Duma speaker Sergei Naryshkin.
Some 30 survivors of Mauthausen, some wearing the striped caps that were part of the uniform given to inmates of the Nazi concentration camps, also took part in the ceremony, AFP reported.
In a moving moment, they deposited pictures and testimonies in a time capsule that will become part of the new exhibit, as their harrowing stories were read out to the public.
"This is the right moment and the right place to make an urgent appeal to all who are in a position of authority in Europe to learn from our tragic past and confront each and every form of racism or anti-Semitism: decidedly, consistently and clearly," Austrian President Heinz Fischer urged.
"That's the minimum that should come out of this day," he said, according to AFP.
David Harris, head of the American Jewish Committee, also sounded words of warning, pointing to rising anti-Semitism in Europe and the presence in a few parliaments of xenophobic or anti-Semitic parties.
"We must wake up. The words 'never again' must apply not just on commemorative events but must apply 24 hours a day, seven days a week," he urged.
"We each have a responsibility to ensure the words 'never again' truly mean 'never again'. Not for the targets of Mauthausen, not for the Jewish people, not for any people.
"Then we can hand off to the next generation a more perfect and just world," said Harris.
Some 200,000 people from 40 nations -- around a quarter of them Jewish, but also Soviet civilians and 7,000 Republican Spaniards -- were incarcerated between 1938 and 1945 at Mauthausen.
Around 90,000 didn't make it, perishing in back-breaking labor in granite quarries from malnourishment, disease -- or shot by the guards, hanged, throttled, beaten to a pulp or gassed.