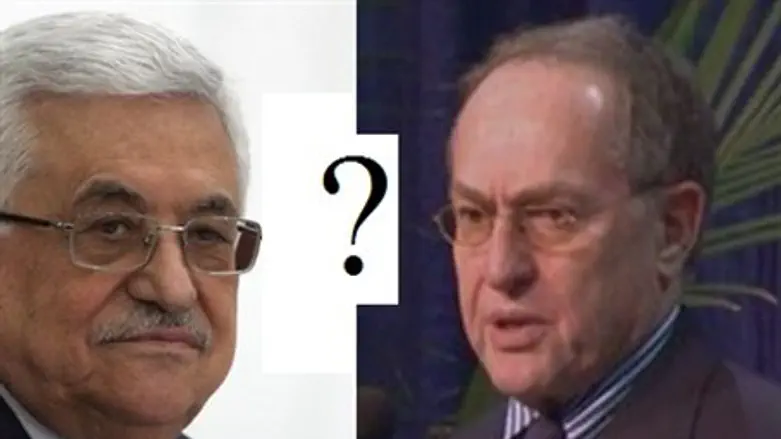 Mahmoud Abbas and Alan Dershowitz
Israel news archives photos
Prof. Alan Dershowitz, appearing at the Jerusalem Post Conference in New York this week, spoke about his plan to restart the peace talks. Dershowitz, who has no official position in Israel, but is a vocal and respected supporter of Israel, spoke to PA President Mahmoud Abbas and suggested a version of the Allon Plan of 1970.
His suggestion for a "tripartite settlement freeze" was panned by Israel's Minister of International Affairs, Yuval Steinitz, as well as by former National Security Advisor to PM Netanyahu, Dr. Uzi Arad, who opposed "ulilateral concessions."
AFSI's newly elected Chairman, Attorney Mark Langfan, sent an open letter to Prof. Dershowitz for posting in the oped section of Arutz Sheva, outlining the present day security and water rights issues which, he writes, make the Allon Plan impossible to implement today.They include lacunas such as no provision for inspection of cargo entering the area, control of air space and immigration, the ease with which Sarin-tipped rockets could be launched against Israel and additional problems that Allon did not envisage over forty years ago.
Langfan challenged Prof. Dershowitz to a debate as to whether the "1970 Allon Plan being implemented in 2013 is a hoax on the Jewish people."
The following response was received by Att'y Langfan and forwarded by him  to Arutz Sheva.  In it, Prof. Dershowtitz hedges his support for the plan and writes that he is not committed to it, or any other plan.
From: Alan Dershowitz <[email protected]>
To: Mark Langfan <[email protected]>
Sent: Tue, Apr 30, 2013 8:18 am
Subject: Re: Open Letter to Professor Alan Dershowitz - Op-Eds - Israel National News

With all due respect, it misses my point. I argue against civilian settlements that have no positive relationship to Israel's security. Water does. I call for a variation on the Alon plan that takes into account Israel's current security needs including water. I'm not committed to Amy [sic] particular plan or formula (emphasis Arutz Sheva) -- only to a distinction between security needs and biblical claims.
Att'y Langfan told Arutz Sheva that he is awaiting Prof. Dershowitz' acceptance of his offer to debate the issue.