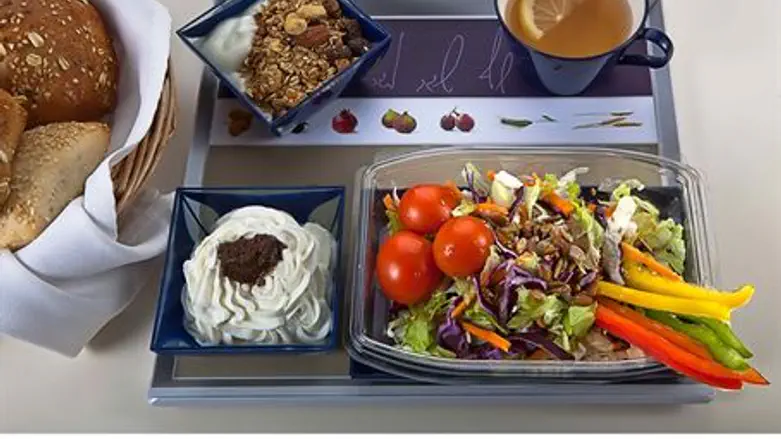 El Al's New Airplane Breakfast
Anatoly Michalo
Israel is famous for its breakfast. This fresh and colourful morning meal served at Israeli hotels and vacation destinations includes: an assortment of salads, cheeses, herrings, fruit and breads to start. It might possibly be the reason that Israel was ranked 6th by Bloomberg Rankings of the World's healthiest countries in May 2012.
Israelis know how to start their morning right.
Are you trying to lose weight by skipping breakfast each day? Do you grab coffees a few times throughout your day rushing to just keep going? Do you find yourself binging at supper and well into the evening?
This is not the ideal weight loss plan. Skipping breakfast must mean that the body's need and craving for food is ignored. A cycle of binge eating sabotages all efforts at staying nutritionally balanced. Many people overeat in the evenings because they are beyond hungry. Good intentions and weight loss goals can't be met under these erratic conditions.
The first step to successful weight loss is eating a healthy breakfast. Many studies show that this meal lays the foundation for lifelong health benefits such as lowering cholesterol, improving sugar numbers and possibly preventing heart disease. Breakfast feeds the brain the nutrients it needs for learning, problem solving and improving short term memory while ensuring you feel more energized.
Going without breakfast may mean eating more throughout the day. And finally breakfast eaters consume more nutrients such as calcium and potassium than non breakfast eaters.
A healthful breakfast could consist of eggs, vegetables, fruit and a wholesome grain. You might enjoy a smoothie made with plain yogurt, berries and some ground flax seeds and chia. Leftover brown rice and steamed vegetables make a perfect breakfast. Mix up your breakfast choices to prevent boredom and falling back on old habits.
The possibilities for a creative start to your day are endless. So enjoy your tasty beginnings knowing that you are doing your body a great favour.
Nili Abrahams, Certified Holistic Health Coach at ChooseLifeNutrition, integrating Health and Wellness with Torah's Wisdom.
And remember you can choose your best life one step at a time.