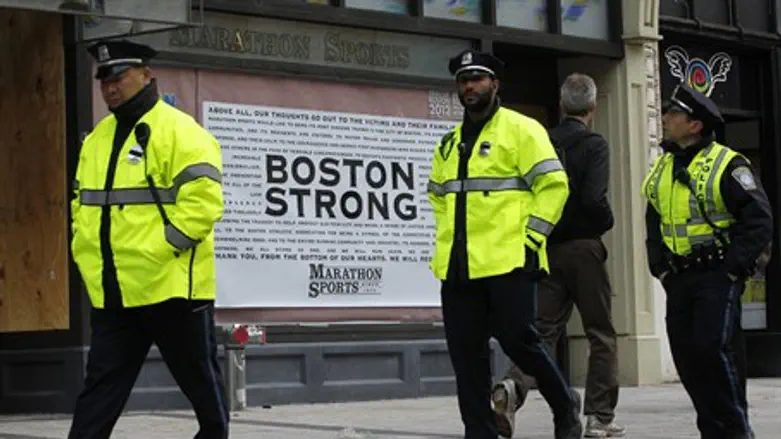 Site of Boston bombing
Reuters
The mother of the two brothers suspected of carrying out the Boston bombings launched an impassioned attack on the U.S. authorities on Thursday over the death of one of her sons, AFP reported.
The parents of the two suspects, Tamerlan and Dzhokhar Tsarnaev, spoke to reporters in the Russian region of Dagestan where they were living when the Boston marathon bombings took place.
Their mother Zubeidat, in a hugely emotional intervention, accused the U.S. security services of needlessly killing her eldest son and tearfully expressed regret the family ever moved to the United States.
Tamerlan, 26, was killed in a chaotic shootout while Dzhokhar, 19, was wounded during his capture by the U.S. authorities and has now been charged.
Tamerlan was "killed, cruelly killed. I want to scream to the whole world, what did you do? He was alive!" Zubeidat, dressed in an Islamic headscarf, said, according to AFP.
"He was alive! Why did they need to kill him? Why? They got him alive," she said, speaking in English and standing up as her husband Anzor remained seated.
Zubeidat reaffirmed her belief that her sons were innocent of the Boston bombings. "I know one thing, that my children did not do this."
She also expressed worry over the injuries to Dzhokhar that he received during his capture. "He has a really bad wound on his neck. He is getting better but he is still weak."
She tearfully expressed regret over the family's move to the United States in 2002, waving her hands and banging the table with emotion.
"Why did I ever go there? Why? I thought that America will protect us and our kids, it will be safe," AFP quoted her as having said.
"But America took my kids away from me. Why would I not regret?"
Zubeidat and the father Anzor had met investigators from the FBI in Dagestan earlier this week in a visit organized by the U.S. embassy in cooperation with the Russian authorities.
Anzor, wearing dark sunglasses and unlike his wife speaking mainly in Russian, adopted a calmer demeanor and said he planned to go to the United States on Friday.
"I plan to go to the United States to clear everything up. I am not looking for revenge or to offend. Let the special services sort it out," Anzor told reporters.
He said Zubeidat had not decided whether to accompany him, apparently due to shoplifting charges against her dating 2012.
"I want to see my youngest son and bury my eldest," he said.
Dzhokhar has been charged with federal terror offences over the twin blasts on April 15 that killed three and wounded 264 people at the Boston Marathon's finish line.
There have been mounting questions in the United States about whether the authorities missed crucial signals that should have raised suspicions about the two brothers before the bombings.
Particular interest has surrounded a trip of around six months made by Tamerlan in 2012 to the Northern Caucasus, and whether he made contact with the Islamist underground in the Northern Caucasus.
Anzor denied the existence of any hidden motive to his trip, much of which he said was taken up with the decorating of their house and waiting for the issue of Tamerlan's Russian passport.
"He had no (other) friends. He was next to me in this time," he said.
On Wednesday, the interfaith group Americans for Peace and Tolerance said that the mosque attended by the two brothers "has a curriculum that radicalizes people."
The mosque has reportedly been associated with other suspected terrorists and is affiliated with the controversial Muslim American Society, APT said.
The FBI told lawmakers this week that Tamerlan Tsarnaev sent text messages to his mother as early as 2011 suggesting he was willing to die for Islam.
Officials said on Wednesday that both the CIA and the FBI had flagged the deceased bombing suspect over possible terror ties, although no action was deemed necessary at the time.
New York Mayor Michael Bloomberg said Thursday that the brothers planned a new attack in Times Square as they were being hunted by police.