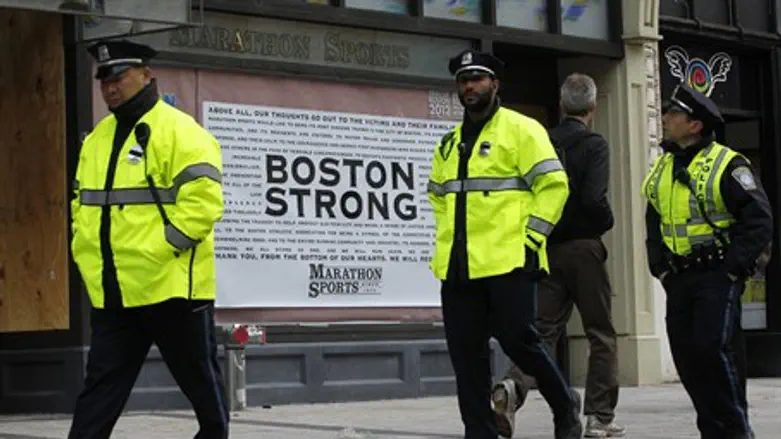 site of Boston bombing
Reuters
Boston Marathon bomber Tamerlan Tsarnaev sent text messages to his mother as early as 2011 suggesting he was willing to die for Islam, the FBI told lawmakers this week, according to Fox News.
Tsarnaev, who was killed days after the April 15 bombing in a shootout with police, is said to have embraced radical Islam in recent years and recruited his younger brother, Dzhokhar Tsarnaev, to carry out the attack that killed three and wounded more than 180 near the marathon's finish line.
Dzhokhar Tsarnaev, who suffered a gunshot wound to the throat before his capture late Friday, was charged with use of a weapon of mass destruction, for which he could get the death penalty.
Officials said on Wednesday that both the CIA and the FBI had flagged the deceased bombing suspect over possible terror ties, although no action was deemed necessary at the time, the AFP news agency reported.
The CIA asked the top US counterterrorism agency to add Tsarnaev to a terror watchlist more than a year before the bombings, a US intelligence official said.
The spy agency reportedly made the move after Russian officials contacted their CIA counterparts in September 2011 about their concerns over Tsarnaev.
Meanwhile, FBI agents interviewed the parents of the suspects on Tuesday in the North Caucasus region of Dagestan, officials said.
Asked about Tamerlan's visit to Dagestan, the parents said he "did not make contact with radical Islamists," a local security source told AFP.
The brothers' father Anzor, an ethnic Chechen born in Kyrgyzstan, has repeatedly said in media interviews that his sons were innocent and could not have carried out the bombings.
New York City Police Commissioner Ray Kelly said earlier that the two brothers were headed to the Big Apple "to party" after the deadly bombing.