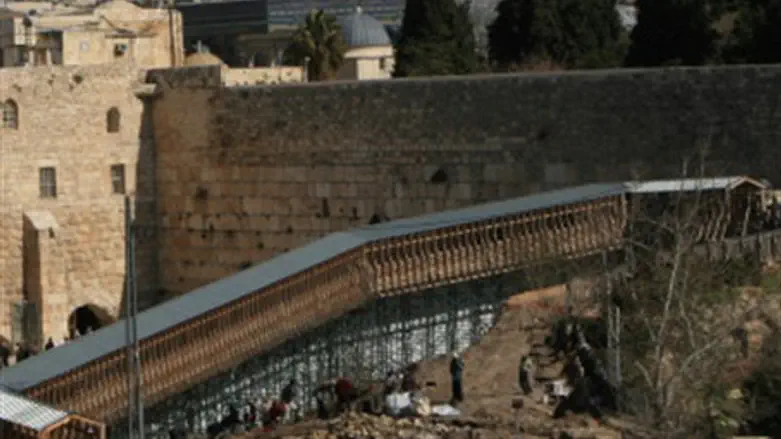 Mughrabi (Rambam) Bridge
Israel news photo: Flash 90
Jordan said on Tuesday that Israel has agreed to allow a UN mission to "investigate and assess" heritage conservation in Jerusalem's Old City for the first time since 2004.
"Jordan and Palestine, supported by Arab states, succeeded in pressuring Israel, for the first time since 2004, to accept and facilitate a UNESCO experts' mission to investigate and assess the status of heritage and conservation of the Old City of Jerusalem and its walls," a palace statement said, according to a report in the AFP news agency.
The mission will start its work on May 15 "and it has to present its report and recommendations before June 1st, 2013, just before the beginning of the World Heritage Committee 37th session," it added, according to AFP.
According to the palace in Amman, Israel confirmed its decision in a letter to UNESCO director general Irina Bokova and in a statement read out on Tuesday at a meeting in Paris of UNESCO's executive board.
Israel also agreed to take part in a technical meeting of the UN Educational, Scientific and Cultural Organization "to discuss recent Israeli violations against the Mughrabi Gate," in Jerusalem, the statement added.
The Mughrabi (Rambam) Gate links the Western Wall Plaza to the Temple Mount. The City of Jerusalem's engineer has said that the bridge to the Mughrabi Gate is structurally unsound, poses a risk to human life, and should be dismantled. This has enraged the Waqf, which was left in charge of the Temple Mount after Israel liberated the area during the Six Day War.
The Waqf insists the final decision in the matter is theirs, as they regard the Temple Mount as a Muslim sanctuary under their sole authority. They claim that no one else has a right to interfere or monitor their affairs. They deny Jewish connections to the Mount and destroy the Jewish antiquities there in a direct violation of a ruling by the Supreme Court.
An Israeli foreign ministry spokesman confirmed to AFP that a UNESCO delegation would be arriving "in the near future" but stressed it would visit heritage sites "throughout Israel, not only in Jerusalem".
Spokesman Yigal Palmor stressed "there was nothing new about this cooperation (between Israel and UNESCO), and any attempt to portray it otherwise is aimed at concealing the fact some Arab elements have turned UNESCO from a professional agency to a vehicle for political attacks."
"The tendentious language of the statement, loaded with political bias of what is fundamentally a professional activity, is not conducive to finding rational solutions to problems raised by the unwarranted politicization of UNESCO's work, a regrettable phenomenon intensified since the admission of Palestine as a member state in that organization," he told AFP.
Tuesday's announcement comes after a deal was struck in March by which the Palestinian Authority confirmed a verbal agreement dating back to 1924 giving Jordan custodianship over Muslim and Christian sites in Jerusalem.