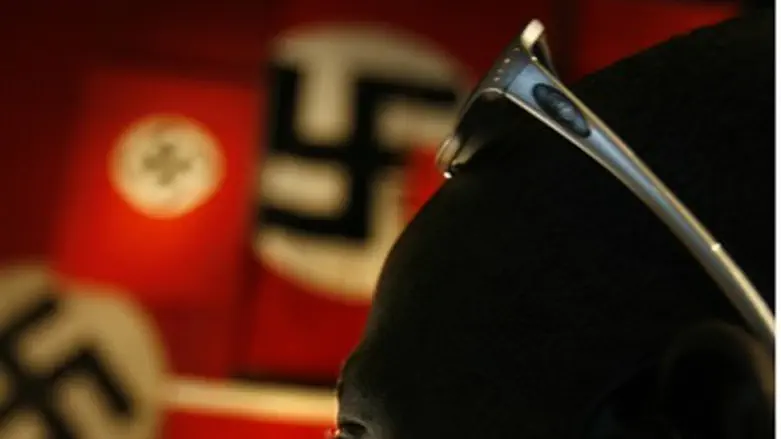 Swastika
Israel News photo: Flash 90
Lithuanian police said Tuesday they were probing anti-Semitic slogans scrawled near the site of a former Nazi labor camp in the Baltic state's capital, the AFP news agency reports.
The unknown perpetrators wrote "Juden Raus" (Jews out) with marker on a sidewalk in Vilnius and drew a swastika on a nearby pole, police spokeswoman Evelina Pagounis told AFP.
Lithuanian Foreign Minister Linas Linkevicius condemned the graffiti, which also included the phrase "Heil Hitler".
"It is especially horrific that these anti-Semitic slogans appeared near two historically sensitive sites for the Jewish nation," Linkevicius said in a statement.

HKP 562 labour camp aside, the graffiti was also near the site where the Nazis selected which Jews would be sent to work -- and which to death.

"We cannot tolerate incitement to ethnic hatred in a democratic state, which respects all ethnic minorities," Linkevicius said.

The police discovered the graffiti on Monday, two days after Hitler's April 20th birthday.

Before the war, Jews constituted around one third of the population in Vilnius, which was known as the "Jerusalem of the North" and drew Yiddish intellectuals and writers.

But around 200,000 Lithuanian Jews - more than 90 percent of the pre-war population - died at the hands of the Nazi Germans and their local collaborators.

The Lithuanian government on Tuesday approved a special program of events in September to mark the 70th anniversary of the liquidation of the Vilnius ghetto.

Today, some 5,000 Jews live in Lithuania, an ex-Soviet nation of three million people that joined the EU in 2004.