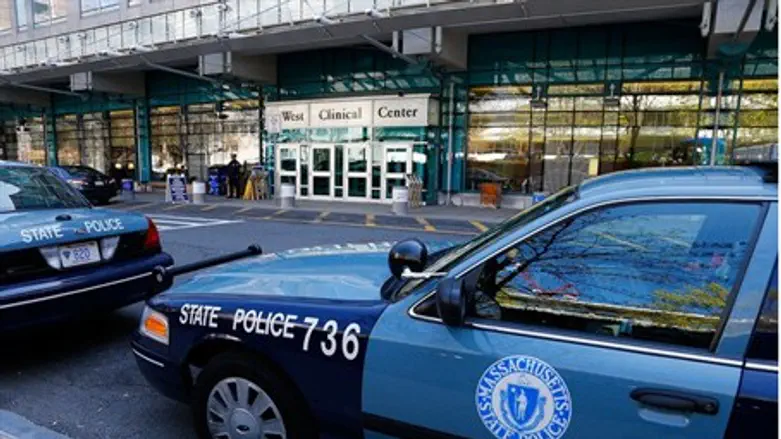 Police stand guard outside the hospital in wh
AFP photo
Boston bomb suspect Dzhokhar Tsarnaev could face the death penalty after being charged on Monday for his alleged role in the attacks which left three people dead and 200 wounded, AFP reported.
Tsarnaev, 19, was arraigned in his hospital bed on charges of using and conspiring to use a weapon of mass destruction, and malicious destruction of property by means of deadly explosives, the U.S. Department of Justice said.
The charges came as America marked the one-week anniversary of the twin marathon bombings with a moment of silence observed across the nation, from the streets of Boston to the White House to the stock exchange in New York.
If Tsarnaev, a naturalized U.S. citizen of Chechen descent, is convicted of the federal charges, he could be sentenced to jail time -- or even death, reported AFP.
"We've once again shown that those who target innocent Americans and attempt to terrorize our cities will not escape from justice," said U.S. Attorney General Eric Holder. A first court hearing was set for May 30.
The unsealing of the federal charges against Tsarnaev, who suffered a gunshot wound to the throat before his capture late Friday, came as White House spokesman Jay Carney said he would not be deemed an "enemy combatant."
"We will prosecute this terrorist through our civilian system of justice," Carney said, after some Republicans had said Tsarnaev should have the same status as the "war on terror" detainees held in Guantanamo Bay.
"The system has repeatedly proven that it can successfully handle the threat we continue to face," Carney said, adding that U.S. law forbids trying citizens in military courts.
Tsarnaev was caught after a massive manhunt that virtually shut down Boston and its suburbs on Friday. His brother and alleged accomplice Tamerlan, 26, had been killed in a chaotic overnight shootout with police.
It was still unclear if the younger Tsarnaev's severe throat injury came at the hands of police or was self-inflicted in a suicide attempt. He is reportedly unable to speak but is communicating with authorities in writing.
A clearer picture of Tsarnaev's role in the attacks emerged with the release of an affidavit from an FBI agent on Monday, which revealed the teenager had been caught on film planting the second backpack bomb.
Surveillance footage showed Tsarnaev calmly walking away from the scene after the first bomb was detonated, according to the affidavit.
Meanwhile, U.S. officials said on Monday that the Tsarnaev brothers were motivated by their religious faith but do not seem connected to any Muslim terrorist groups.
The two officials were quoted in U.S. media as having said that preliminary evidence from an interrogation of the younger brother suggests the Tsarnaev brothers were driven by religion but had no ties to Islamic terrorist organizations.
At the same time, they said that they were still trying to verify what they were told by Dzhokhar Tsarnaev.