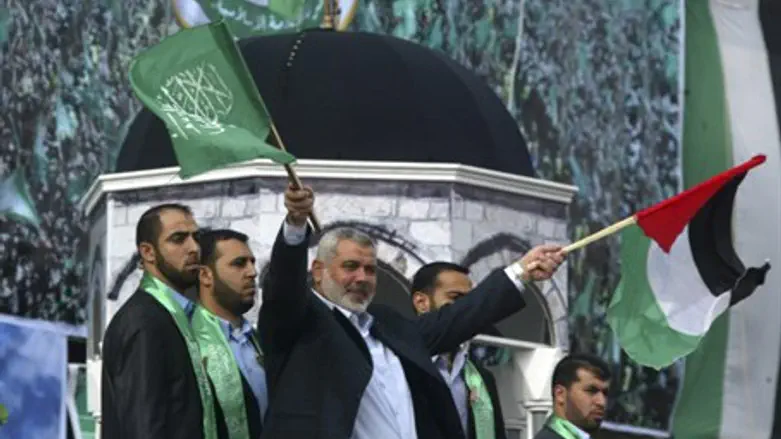 Hamas leader Ismail Haniyeh
Flash 90
UN Watch, an independent Geneva-based monitoring group, has sent a letter to UNESCO, calling on the international body to take immediate action to stop Hamas from bulldozing of a 3000-year-old Gaza harbor for use as a terrorist training camp.
The partial destruction of the ancient Anthedon Harbor—which includes the ruins of a Roman temple and archaeological remains from the Persian, Hellenistic, Roman and Byzantine eras—follows its nomination as a World Heritage site.
The biannual UNESCO meeting, which runs until April 26, lists five agenda items concerning "Palestinian" issues, which US Ambassador Killion has described as "highly politicized" and designed to "single out Israel."
However, there is currently no scheduled discussion to address the month-long Hamas bulldozing of the proposed heritage site.
"UN Watch is alarmed by the reported destruction by Hamas of parts of the ancient Anthedon Harbor in Gaza for use as a terrorist training camp. We urge you to bring the matter immediately before the UNESCO Executive Board, currently meeting at its 191st session in Paris, for protective action," Executive Director of UN Watch, Hillel Neuer, wrote in a letter to Director General of UNESCO, Irina Bokova.
"We note the tragic irony that this destruction by the rulers of Gaza comes exactly one year after the area was nominated by new UNESCO member state Palestine as a World Heritage site," the letter noted, referring to the Palestinian Authority's recent upgraded states at the United Nations," it states.
"As you must know, earlier last month, despite criticism from nongovernmental organizations, the Izz ad-Din al-Qassam Brigades of Hamas bulldozed a part of the Anthedon Harbor in northern Gaza along the Mediterranean Sea, according to yesterday's report by Al Monitor Palestine Pulse.
"Hamas damaged the harbor in order to expand its 'military training' zone, which was initially opened on the location in 2002, according to your own UNESCO representative in Gaza, Yousef al-Ejla," the letter continues.
"That the UNESCO executive has so far failed to place the Hamas destruction and cynical abuse of this site on its agenda underscores the tragic politicization and diversion of the agency's mission to protect world culture and heritage.
"[A]s Hamas turns a cultural heritage site into a terrorist training ground," the letter adds, "the silence of UNESCO now places the very credibility of the organization at stake."