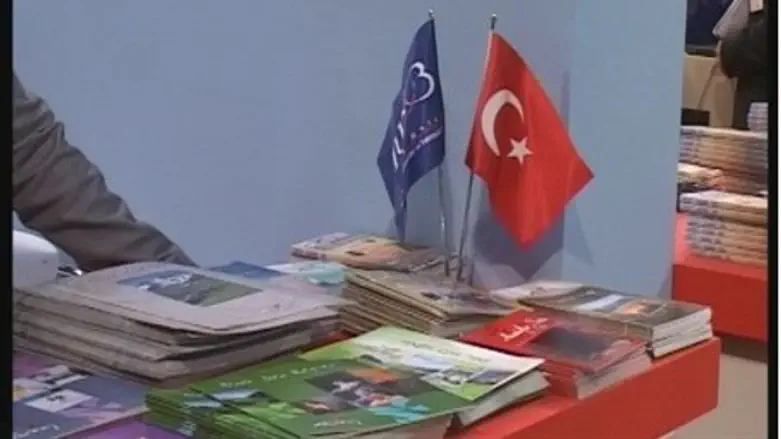 Turkey hoping for tourism?
Israel news photo: Yoni Kempinski
Turkey has become the "first state with an ambassador recognized by Palestine," according to a headline in a Turkish newspaper, while continuing to snub the Jewish State over an incident involving an illegal flotilla attempt to break Israel's maritime blockade against terrorist-ruled Gaza.
Turkish Consul General Sakir Ozkan, who provides services to Palestinian Authority Arab residents from his office in Jerusalem, has presented his credentials to PA Chairman Mahmoud Abbas at his office in Ramallah as an official ambassador, according to the Hurriyet Daily News.
Ozkan's office is located in the Sheikh Jarrah neighborhood of Jerusalem.
According to the report, Turkey recognized the PA as a sovereign country, called "Palestine," when the Palestine Liberation Organization (PLO) declared itself to be one in 1988.
The title of "consul general" was allegedly upgraded to "ambassador" after the PA was granted non-member observer state status at the United Nations General Assembly last fall, Hurriyet reported Monday.
When questioned by Arutz Sheva, Israeli government spokesman David Cameron declined comment on the matter.
Prime Minister Binyamin Netanyahu formally apologized to Turkey in March for "operational errors" that led to the deaths of nine terror activists aboard a Turkish flotilla vessel that attempted to break Israel's maritime blockade of Gaza -- a central condition set by Turkey's Prime Minister Recep Tayyip Erdogan before he would permit the return of Turkey's ambassador to Israel.
Erdogan also demanded financial compensation by Israel to the families of those who died aboard the Mavi Marmara, and that Israel lift its blockade on the Hamas terrorist-ruled region. 
The Turkish prime minister announced Sunday plans to visit Gaza after he meets on May 16 at the White House in Washington D.C. with U.S. President Barack Obama.