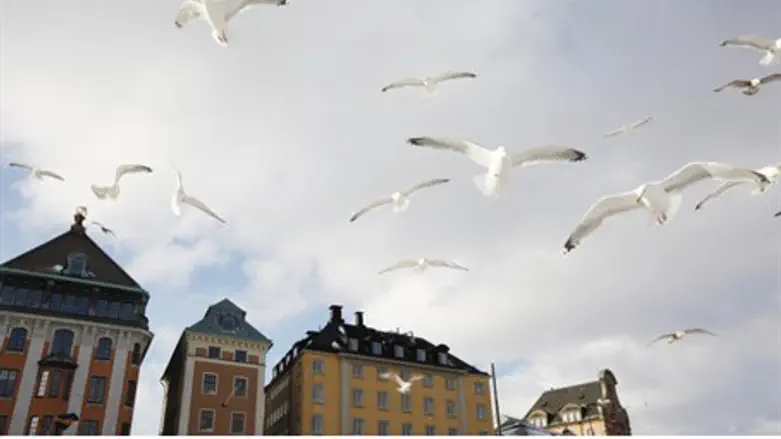 Stockholm, capital of Sweden.
Flash 90
A Muslim Swedish politician resigned from his post on Sunday after coming under intense scrutiny for holding anti-Semitic views.
Omar Mustafa, head of Sweden's Islamic Association, who was elected last week in Stockholm to the Social Democratic Party's governing board, announced his resignation after being accused of anti-Semitism, sexism, and homophobia.
The Islamic Association, of which he is a member, is known for gender discrimination and homophobic sympathies.
Mustafa "liked" the Facebook page of Yusuf al-Qaradawi, the Muslim Brotherhood's Egyptian "guru", to quote Arutz Sheva columnist Giulio Meotti, who called for suicide bombings against Israelis and called the Holocaust "Allah's punishment" against the Jews for "their corruption." Al-Qaradawi also prayed for "the conquest of the al-Aksa mosque" on the Temple Mount
A fatwa issued by al-Qaradawi, Meotti writes, permits the killing of Jewish unborn babies, on the logic that when Jews grow up they might join the Israeli army.
Mustafa released a statement over the weekend announcing his resignation, maintaining that the "party leadership believes that having a mandate within the party and within Muslim civil society is incompatible."
"The party leadership's view isn't only regrettable, it's also a frightening signal to Muslims and other Social Democrats who are people of faith," Mustafa wrote in an open letter. "I therefore feel that the party leadership doesn't have confidence in me and have forced me to resign from all my duties in the party."
Mustafa maintained that he had become the victim of "unfounded attacks and conspiracy theories about Islam, Muslims, and Muslim organizations". Despite leaving his duties with the party, Mustafa vowed to continue working within Muslim civil society for "justice, equality, and human rights." "I plan to continue my work with Swedish-Muslim identity, against racism in all its forms, and for a more just national and international policy," he wrote.