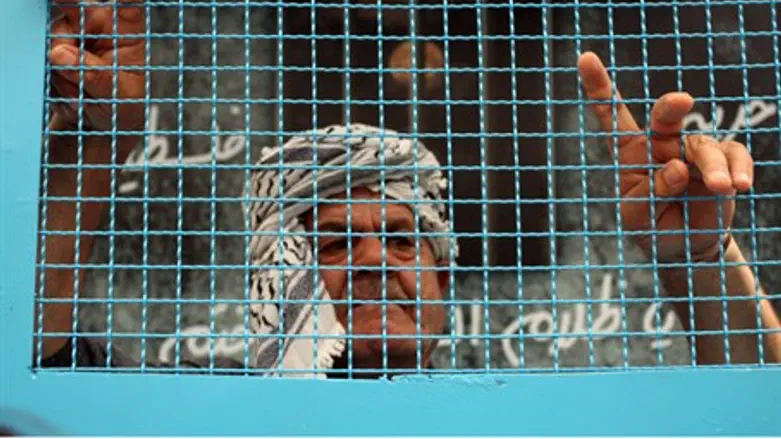 Terrorist prisoner
Flash 90
Israel has rejected appeals to release a Palestinian Authority terrorist prisoner on a long-term hunger strike to the PA-assigned areas of Judea and Samaria, the PA's prisoner affairs minister Issa Qaraqea told AFP on Saturday.
Qaraqea said Israeli officials told him that Samer Issawi, who has intermittently refused food for more than eight months, "is in critical condition and might die at any moment."
Issawi, 33, was first arrested in 2002 and sentenced to 26 years for terrorist activity. He was released in the Shalit deal in October 2011, but rearrested in July for violating the terms of the release agreement.
Israel has ordered that he serve the remainder of his original sentence.
Issawi's health has deteriorated because of his prolonged fast, and he is being held in an Israeli hospital. An Israeli official told AFP he could "immediately be released to Gaza."
Qaraqea, however, said the PA had requested that he be released temporarily to Judea and Samaria.
"We proposed that they release him to Ramallah for a while and they refused," he told AFP.
"We agreed to send him to Europe for a few months to receive medical treatment and then come back again but they refused."
On Friday, Israel said it was willing to deport Issawi to any EU member country or any UN member country, but an EU spokesman told AFP that "Israel has not formally approached the EU on this subject."
Issawi is the last of four Palestinian Authority Arab terrorist prisoners who were on extended hunger strikes in Israeli prisons, after two ended their fast in February and a third was exiled to Gaza for 10 years.
Palestinian Authority Arab terrorist prisoners have turned hunger striking into a pressure tactic aimed at forcing Israel to release them out of fear for their lives. Israel has several times in the past caved to the pressure and released some hunger strikers.
Meanwhile, a group of Israeli authors and poets who are identified with the left, including writers Amos Oz and A.B. Yehoshua, wrote a letter to Issawi over the weekend, urging him to call off his hunger strike.
"We read with much pain about your hunger strike," they wrote. "The description of your ever-deteriorating situation is appalling to us. We feel that the act of suicide that you are going to commit will add another dimension of despair and tragedy to the conflict between the two peoples."
"Give yourself hope and strengthen the hope for all of us," they added. "There are now encouraging signs for the resumption of negotiations between the two nations, which will also include the release of prisoners, including you."