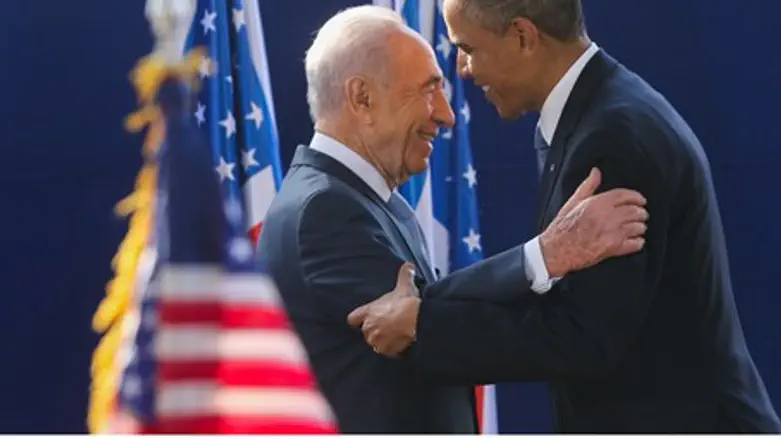 Peres and Obama
Flash 90
President Shimon Peres said that he believes that U.S. President Barack Obama will attack Iran's nuclear facilities if diplomatic efforts fail.
"I have no doubt that if diplomatic talks fail with Iran and Tehran doesn't stop accelerating its nuclear development – U.S. President Barack Obama will conduct a military attack against Iran," Peres told the Israel Hayom newspaper this week, in an interview ahead of Israel's 65th Independence Day next week.
"Preventing Iran from acquiring a nuclear weapon isn't only an Israeli interest, but a global and an American interest. As long as the U.S. is in the lead — why shouldn't we use its assistance?" Peres said.
"It could be that the Iranians are trying to buy time, but they are also losing. The situation in Iran is greatly deteriorating, the economy is collapsing, and the people understand this very well," said Peres. The full interview with Peres will be published in Israel Hayom on Monday.
The latest round of international discussions with Iran over its nuclear program ended in Kazakhstan this past week without any breakthroughs and the sides even failed to set a new date and time for a resumption of talks.
In fact, Iran insisted this week it will not suspend its enrichment of uranium to 20 percent nor will it ship out its existing stockpile, two keys demands of world powers in failed nuclear talks with Tehran.
On Monday, U.S. Secretary of State John Kerry told Peres in a meeting that "President Barack Obama is not bluffing when he says he will stop Iran's nuclear program."
"We understand the nature of the threat of Iran. And as the President has said many times — he doesn't bluff. He is serious. We will stand with Israel against this threat and with the rest of the world, who have underscored that all we are looking for is Iran to live up to its international obligations. No option is off the table. No option will be taken off the table," Kerry said.
Iran this week marked its National Nuclear Technology Day by announcing the opening of two new uranium mines and a new plant capable of producing 60 tons of raw uranium (also known as "yellow cake") per year.
Western nations have "tried their utmost to prevent Iran from going nuclear, but Iran has gone nuclear," Iranian President Mahmoud Ahmadinejad said in a speech on Tuesday.
"They caused restrictions and issued threats, thinking that the Iranian nation cannot achieve nuclear energy ... The best way for you is to cooperate with Iran," he said.
On Friday, Russia responded to Iran's unveiling of the new uranium production facility, warning the move could hurt progress in negotiations with world powers over Tehran's nuclear program.
An unnamed source in the Russian foreign ministry told Interfax that Iran's announcement does not actually breach its obligations under various international nuclear agreements.
(Arutz Sheva's North American Desk is keeping you updated until the start of Shabbat in New York. The time posted automatically on all Arutz Sheva articles, however, is Israeli time.)