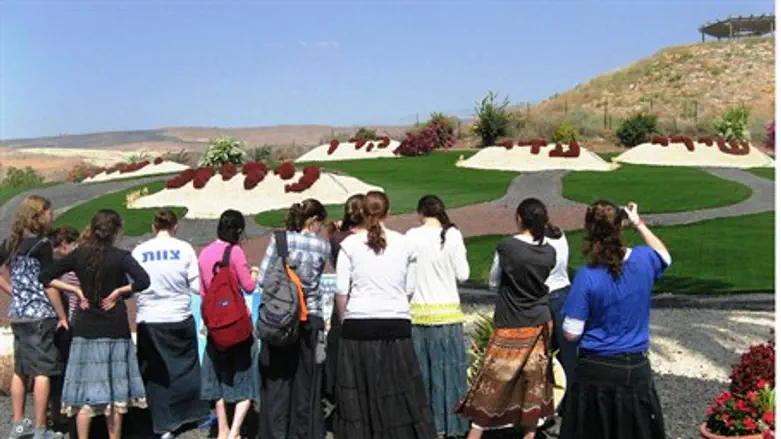 Memorial for Naharayim victims
Haggai Huberman
Jordanian parliamentarians are calling for the release of a terrorist who in 1997 murdered seven Israeli students from the same school during a school trip.
110 out of 150 Jordanian MPs have already signed a petition, initiated by MP Ali Sinad, calling for the release of Ahmed Daqamseh.
Daqamseh was a soldier in the Jordanian army when he opened fire on a group of students who were visiting the "peace island" of Naharayim on March 13, 1997, as part of a class trip. Naharayim is located right near the Jordanian border, and Daqamseh opened fire on the girls from the Jordanian side. He killed seven of the students, and wounded six others. Daqamseh was sentenced by a Jordanian military court to life in prison.
Sinad said on Friday that he had reached the required number of signatures to release the terrorist, but indicated that he did not intend to stop at 110 signatures and would try to recruit more MPs to influence the relevant parties to release Daqamseh.
In 2011, the Jordanian Justice Minister, Hussein Mjali, caused an uproar when he called for Daqamseh's release, claiming that he is "a hero. He does not deserve prison. If a Jewish person killed Arabs, his country would have built a statue for him instead of imprisonment."
Daqamseh has denied committing any crime and has said that he should be freed from prison since he had simply fulfilled his national and religious duty by killing the students.
(Arutz Sheva's North American Desk is keeping you updated until the start of Shabbat in New York. The time posted automatically on all Arutz Sheva articles, however, is Israeli time.)