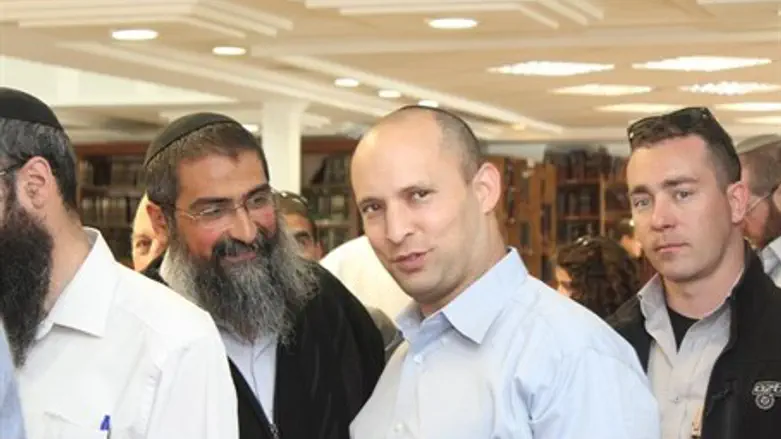 Bennett in Hevron
Hevron Jewish Community
The entire Bayit Yehudi Knesset faction toured Hevron and Kiryat Arba on Thursday. The politicians were guided by MK Orit Struk, a Hevron resident, and Noam Arnon, who provided historic and diplomatic perspectives on Hevron and Kiryat Arba.
The MKs visited the Cave of Machpela (Cave of Patriarchs), the Kiryat Arba Local Authority, and Tel Rumeida neighborhood. Local residents provided them with explanations regarding the demographic, financial and social situation in the area.
Machpela House, a structure purchased by Jews and then sealed off by the IDF, was opened up for the MKs, just over a year after the eviction of its Jewish residents.  
The Yitzchak Hall in the Cave of Patriarchs was also opened for the MKs. It is closed to Jews for most of the year.
Bayit Yehudi Chairman, Minister of Economics and Trade Naftali Bennett, said at the entrance to the Cave of Machpela: "On the eve of Independence Day, it is important to remember that everything began here, 3,800 years ago. I wish for us all, that the entire nation of Israel will come here and will be able to pray freely."
Photos courtesy of Hevron Jewish Community