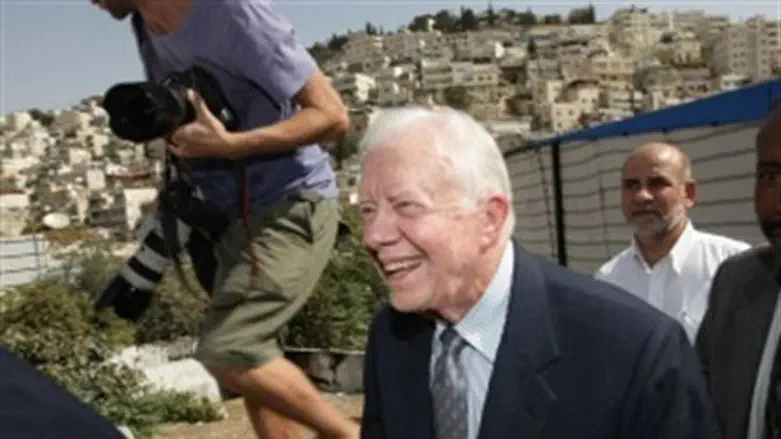 Carter in Shiloach
Israel news photo: Flash 90
Enraged alumni of Yeshiva University's Cardozo School of Law have threatened to physically block Jimmy Carter from entering the school, where he is due to receive a peace award on Wednesday.
Daniel Rubin, 62, told the Jewish Daily Forward that about a dozen former alumni are planning an act of civil disobedience to prevent Carter from picking up the International Advocate for Peace Award, given annually by Cardozo's Journal of Conflict Resolution.
Rubin said former alumni "would use their knowledge of the building layout to outmaneuver any attempts to stop them."
"Mr. Carter ain't going to get anywhere," he said. "There's no reason for a school that has any sense of Jewish integrity to have a guy like that around."
Separately, a group calling itself The Coalition of Concerned Cardozo Alumni has called on former students to express their outrage to Y.U. President Richard Joel and Cardozo dean Matthew Diller. Citing Carter's 2006 book, "Palestine: Peace Not Apartheid," and Carter's voluminous "record of slandering Israel," a statement on the coalition's website, said: "Jimmy Carter has an ignominious history of anti-Israel bigotry."
Joel issued a disclaimer regarding Carter in a statement posted on YU's news blog Monday. "While he has been properly lauded for his role in the Camp David Accords of 1978, I strongly disagree with many of President Carter's statements and actions in recent years which have mischaracterized the Middle East conflict and have served to alienate those of us who care about Israel," Joel said.
"President Carter's presence at Cardozo in no way represents a university position on his views, nor does it indicate the slightest change in our steadfastly pro-Israel stance."
Joel noted that Carter will be honored by the student-run Cardozo Journal of Conflict Resolution with its Advocate for Peace Award. "The university recognizes the breadth of impassioned feelings engendered by this appearance, and is mindful of the diversity of expressed opinions on the matter," he said.
Americans for a Safe Israel (AFSI) blasted the decision by the YU journal, accusing Carter of having "an ignominious history of anti-Israel bigotry."
"He is responsible for helping to mainstream the anti-Semitic notion that Israel is an apartheid state with his provocatively titled book "Palestine: Peace Not Apartheid", the publication of which prompted mass resignations from the Carter Center. He has met numerous times with leaders of the terror group Hamas whitewashing their genocidal goals and undermining US efforts to isolate Hamas. And Carter's record of slandering Israel is so voluminous that both CAMERA and Alan Dershowitz have written books refuting his lies.
"While Carter may be credited for the role he played in the Camp David Accords as President of the United States and the resultant cold peace between Israel and Egypt that ensued, that event took place close to 30 years ago. Since the end of his presidency, Jimmy Carter has exhibited extreme antipathy towards Israel - and by extension the Jewish people - that places him firmly in the camp of the likes of Walt and Mearsheimer.
"It is simply unconscionable for a Jewish affiliated school to honor someone who has played such a high profile role in demonizing the Jewish state. We therefore urge you to condition any continued support of Cardozo, be it financial or otherwise, on the cancellation of this event," wrote AFSI.
Another Cardozo alumnus, Yishai Fleisher, who lives in Israel, said that shutting down Carter's appearance at this point would be a mistake, and would smack of stifling freedom of expression. He noted that the Journal of Conflict Resolution has honored problematic figures in the past, including Desmond Tutu, who made outrageous statements regarding the Holocaust.
Preventing Carter, if kept from receiving the prize "will look as though outside actors are using economic boycotts to shut the mouth of a freedom activist," Fleisher wrote in the Jewish Press. "It would be far-better for Cardozo students to vigorously protest the choice of their colleagues to reward this sinister man with a Peace Prize."