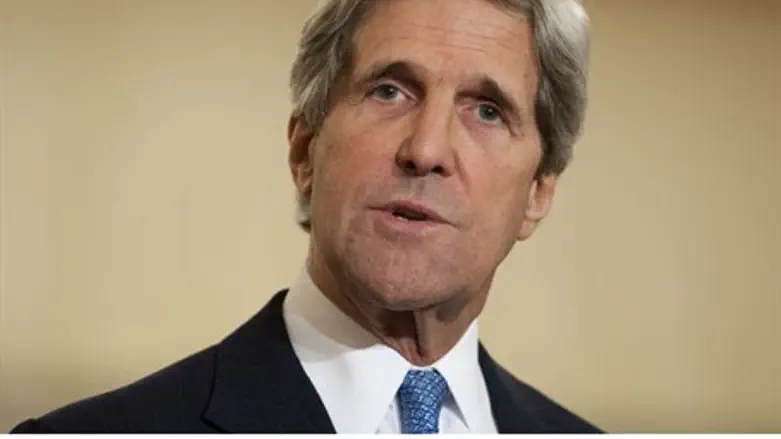 John Kerry
AFP file
U.S. Secretary of State John Kerry may have offered Palestinian Authority Chairman Mahmoud Abbas incentives to return to the negotiating table - at Israel's expense.
According to PA officials who spoke to the Bethlehem-based Ma'an news agency, following Kerry's meeting with Abbas on Sunday, the Secretary of State offered Abbas several incentives to return to direct negotiations with Israel.
The sources said that Kerry offered to release all PA tax funds and to ensure Israel does not withhold the PA's tax revenue in the future.
Washington's top diplomat also reportedly offered to extend the Palestinian Authority's jurisdiction, particularly in Area C, the area of Judea and Samaria which is under full Israeli control, according to Ma'an.
Kerry also proposed allowing PA Arabs to build more freely in Area C, the officials said according to the report, which was unconfirmed by other sources.
If true, the report is similar to one from several weeks ago, which said that Kerry was planning on offering Israel and the PA an outline which would see Israel releasing terrorists from its prisons and transferring areas from Area B, which is under joint PA-Israeli control under the Oslo Accords, to Area A which is under full PA control.
Kerry's outline would have the PA undertaking a return to the negotiating table and promising not to file lawsuits against Israel with the International Criminal Court.
AFP reported earlier that Abbas, who has imposed endless preconditions on peace negotiations, came up with another one, telling Kerry that the release of terrorist prisoners held by Israel was a "top priority" for resuming peace talks. This comes two days after his advisor said that Abbas would demand that Prime Minister Binyamin Netanyahu present a map for a future Palestinian state before any peace talks can resume.
The official PA news agency WAFA reported that Abbas told Kerry on Sunday that PA Arabs were a peaceful people who were willing to cooperate with international efforts to achieve peace and a state along the indefensible pre-1967 borders.
He told Kerry that Jewish construction in Judea, Samaria and eastern Jerusalem could not be tolerated, particularly Israel's planned project in E1, the area which connects Jerusalem and Maale Adumim. This project, Abbas claimed, would divide Judea and Samaria and isolate Jerusalem, according to WAFA.
Kerry will Monday join a ceremony for Holocaust Memorial Day before meeting PA Prime Minister Salam Fayyad and then Israeli President Shimon Peres.
He will meet Netanyahu on Tuesday morning before leaving for London for a meeting of G8 foreign ministers.