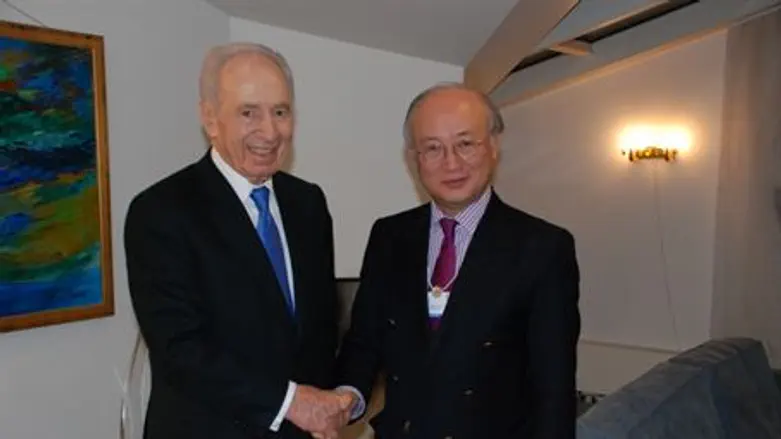 Israeli Pres. Peres, IAEA Chief Yukiyo Amano
Israel news photo: Flash 90
The United Nations' nuclear agency reluctantly has reported that Iran appears to be working on an atomic weapon of mass destruction.
Yukiya Amano, head of the International Atomic Energy Agency (IAEA), is being quoted in international media as saying his agency has indications of Iran secretly continuing to work on nuclear weapons both "in the past, and now."
World powers are meeting this week with the Islamic Republic in hopes of persuading Tehran to slow down or reduce the pace of its uranium enrichment and other nuclear development activities in return for western countries lifting international sanctions.
But few expect the strategy to work. Iran has increased the number and sophistication of centrifuges used to enrich uranium at its nuclear plant in Natanz – a fact Tehran was unafraid to share with the IAEA. 
Uranium enriched beyond 20 percent can be used to create military-grade nuclear fuel for a crude atomic bomb. The higher the level of enrichment, the more sophisticated and dangerous the weapon. Such an explosive could conceivably be loaded on to a warhead installed on a ballistic missile that is then aimed at Israel or the United States.
Tehran has claimed it now possesses missiles that can reach both.
The IAEA has in the past two years listed in its annual reports evidence of such work, and documented its suspicions that Iran is carrying out nuclear development activities that far exceed what it reports to the agency.
In 2007, United States intelligence reports said that all weapons development in Iranian nuclear plants was suspended by 2003. 
Israel has continued to flatly disagree, and in recent months the IAEA was compelled to acknowledge that intelligence from the Jewish State may have been more accurate.