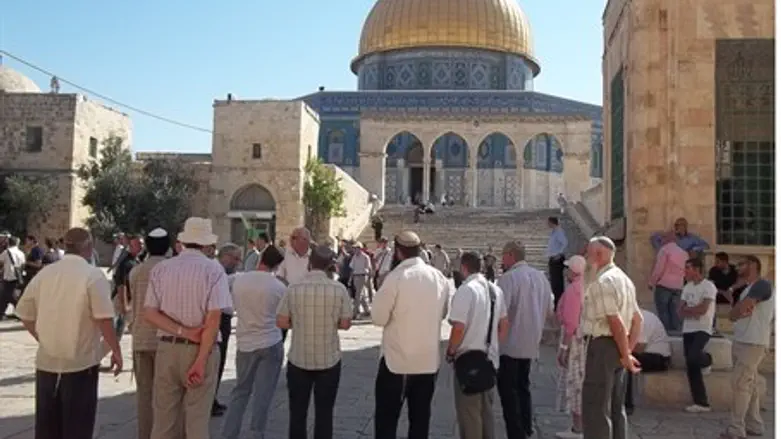 The Temple Mount
Israel news photo: Flash 90
Once again, extremist Muslims tried but failed to prevent Jews from accessing the holiest site in the Jewish faith, with the threat of attacks.
Dozens of Arab teens hurled rocks Sunday morning at groups of Jews who were touring the Temple Mount.
The site was open on the eve of the final day of the Passover holiday in the morning from 7:30 a.m to 11:00 a.m and scheduled to reopen from 1:00 p.m. to 2:30 p.m. in the afternoon.
But a crowd of "at least 30" Arab rioters gathered at about 10:30 a.m. and began hurling rocks at the Jewish visitors when they reached the site, the most sacred place in the world in Judaism.
All the groups were accompanied by a police escort, according to Israel Police spokesman Mickey Rosenfeld, who told Arutz Sheva that six rioters were arrested in connection with the incident.
No one was injured in the attack, he said.
According to Rosenfeld, the site remained open to Jews and other non-Muslim visitors until the end of "regularly-scheduled visiting hours, and then closed on time at 11:00 a.m."
Rosenfeld assured Arutz Sheva the site would reopen for visitors at 1:00 p.m.
A spokesperson for The Temple Mount Movement said he was not surprised by the incident and called on police to keep the sacred site open to Jewish worshipers on a constant basis.
There have been numerous attempts by Muslim extremists to prevent Jews from accessing the Temple Mount, which is also the location of the Al Aqsa Mosque and considered the third holiest site in Islam. The site is administered by the Waqf -- the Islamic Religious Authority -- with the agreement and cooperation of the Israeli government.
Although not mentioned in the Qur'an, within Temple Mount is the site of the Holy Temple's "holy of holies" mentioned numerous times in the Torah, central to Jewish worship.
There are numerous Jewish laws connected with the manner of ascending to and treading upon the grounds of the Temple Mount, and because the precise location of the "holy of holies" is no longer known, exquisite care is taken by educated, observant Jews who visit the area.