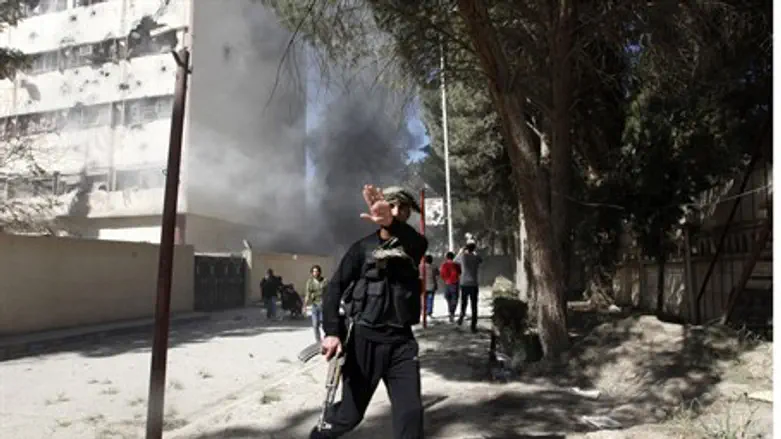 Al Nusra terrorist in Raqa
Reuters
Syria's Al Nusra Front rebel faction, allied with Al Qaeda, has more than doubled and is continuing to grow with the influx of Syrian jihadists returning from abroad.
The group was the lead faction among those who recently invaded the buffer zone along the Syrian-Jordanian-Israeli border in the Golan Heights.
Listed in the United States as an officially banned terrorist organization, Al Nusra Front has become increasingly attractive to individual jihadists and small radical Islamist groups.
The most recent recruits flowing in are Sunni Muslims previously sent to Iraq to advance the interests of President Bashar al-Assad, according to a report published Thursday in the Turkish Hurriyet Daily News.
According to the report, jihadists have been flowing into Syria in "small numbers and isolated groups," and thus their movements have remained largely under the radar of the international community until late last year.
Prior to its decision to list Al Nusra as a foreign terrorist organization, Turkey reportedly warned the U.S. government that doing so would increase the group's "popularity" and raise its attraction for Al Qaeda-linked jihadists in the region.
Al Nusra does not cooperate with the Western-backed Free Syrian Army (FSA), which fights on behalf of the more "moderate" Syrian National Coalition (SNC).
But there have been several occasions upon which the FSA has collaborated with Al Nusra, specifically in the conquest of Raqa, and in attacks on Aleppo. Most recently, the jihadists have had open access to the no-man's-land buffer zone between Syria and Israel – an area that until recently was considered off limits to anyone but the United Nations peacekeepers' force.
SNC coalition leader Moaz al-Khatib has urged the U.S. to reconsider its blacklisting of Al Nusra, and issued a statement in December 2012 warning his Western backers: "We can have ideological and political differences with certain parties, but the revolutionaries all share the same goal: to overthrow the criminal regime (of President Bashar al-Assad)."