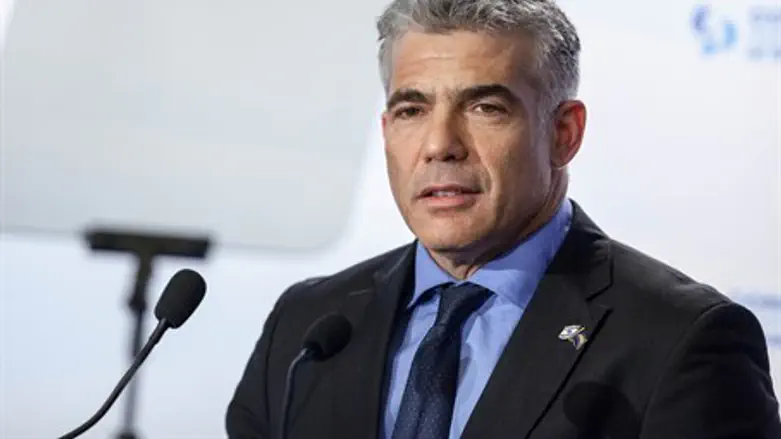 Yair Lapid
Israel news photo: Flash 90
Israel's new Finance Minister, Yair Lapid, admitted on Saturday night that he would have to implement tough economic cuts in order to repair Israel's economy.
"I have discovered that there is a monstrous, growing overdraft in our bank account," Lapid wrote in a message to his supporters.
"It's time to deal with that overdraft," he added. "We'll work hard, we'll limit ourselves, we'll reduce expenses, we will also have to cut where it's most painful. It will be difficult, it will be stressful, but there's another advantage: If we do this now, it will not continue for a long time."
Lapid added that in the coming year he will take actions that will enable greater leeway for next year in addressing the problems of housing, education, welfare and equal sharing of the burden.
"The problem arose because, instead of responsible economic management, they took huge loans and partied. I'm not going to repeat that mistake," said Lapid.
He admitted that he would prefer to engage in "happier things" than dealing with the deficit, but added, "I believe that my job is to go exactly where it is difficult."
"Those who feel in the coming year that their situation has worsened should know that it will be temporary," said Lapid. "The stronger the actions we take now, the more we can do to improve next year."
In January, figures assembled by the Accountant General's Office found that Israel's budget deficit was double than what had been expected. Instead of the 2% that Israel had been thought to be in "overdraft," it turns out that the deficit is 4.2%.
The Treasury said that most of the unexpected deficit, about NIS 18 million, was due to lower than expected tax receipts. Spending overruns accounted for only NIS 2.2 billion of the deficit.
Lapid's statement comes just one week after he said that he is not afraid to make decisions in his new role that will cause his popularity to decline.
"I am not afraid to make moves that will hurt my popularity," he emphasized. "My job is not to be popular, but to lead. I went into the election with the slogan 'Where's the money?' and this is a binding statement."