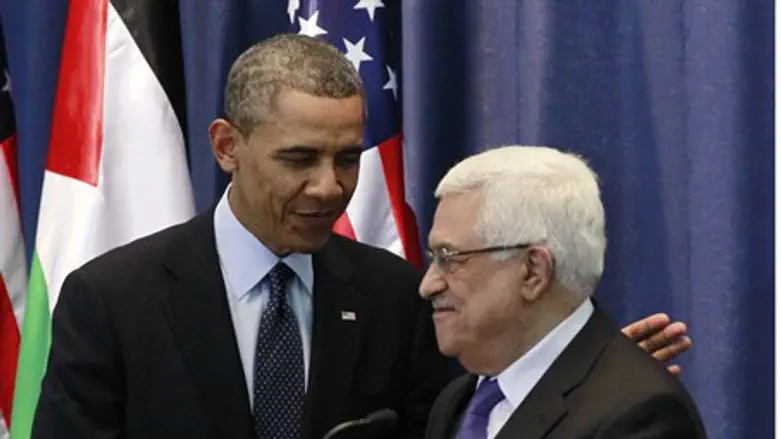 Abbas and Obama in Ramallah
Reuters
Palestinian Authority chairman Mahmoud Abbas welcomed President Barack Obama's speech in Jerusalem on Thursday, while Hamas condemned Obama for "adopting Israel's position".
"President Abbas welcomed President Obama's speech in Jerusalem saying that achieving peace and the option of two states on the 1967 borders are the way to bring security for the Israeli and Palestinian peoples," the PA's peace negotiator Saeb Erekat told AFP.
Gaza's Hamas terrorist leaders, meanwhile, criticized Obama and condemned Abbas's Palestinian Authority for cooperating with the U.S. government.
Referring to comments made by Obama during a joint press conference with Abbas in Ramallah, Hamas spokesman Sami Abu Zuhri said the remarks "lack content and do not include anything new or an obligation toward the Palestinian people."
Abu Zuhri claimed that Obama has adopted the "Zionist position regarding the right of return," adding that the President's demand that Hamas stop terrorism and accusations that the group is responsible for the suffering of PA Arabs is a reversal of reality and a bias in Israel's favor. Abu Zuhri claimed that the reason for Arab suffering is the alleged "siege" imposed by Israel on Gaza and the Israeli attacks on the region.
Abu Zuhri also said that President Obama's remarks on Israel being a "Jewish state" are a racist approach.
Salah Bardawil, a senior Hamas figure, said that "the only way is to exercise the right of the Palestinian people to struggle until the liberation of the land, self-determination, return of refugees and the release of prisoners."
During his speech in Jerusalem, Obama spoke about the need for establishing a state of Palestine with viable borders, so that Israel could achieve peace.
Improvising at times and receiving warm applause throughout his speech, Obama eventually reached the point at which he called on Israelis to put pressure on their own government. "Political leaders do not take risks if their people do not push them to take risks," he said. "You must create the change that you want to see. Your voices must be louder than those who would drown out hope." 
Earlier, during his joint press conference with Abbas, the American president called on the PA to drop the preconditions it has continuously imposed on negotiations, especially the demand that Israel halt all construction in Judea and Samaria.