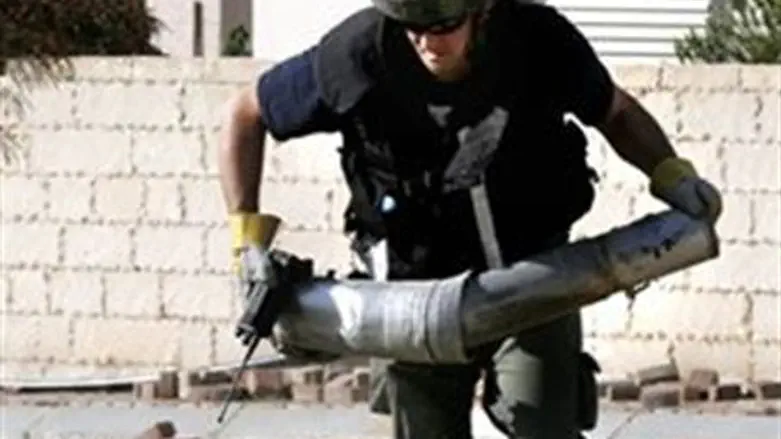 Kassam rocket
Israel news photo: Flash 90
Hamas on Thursday denied that it or any other Gaza terror group had fired rockets at Israeli targets in the midst of U.S. President Barack H. Obama's visit to Israel. "Israel has fabricated these reports in order to mar the reputation of the resistance forces," a spokesperson for Hamas said.
A rocket fired at Israel from Gaza caused heavy damage to a house in Sderot Thursday morning. A second rocket hit an open area near the Gaza border, and two other rockets aimed at Israel fell on the Gaza side of the border fence. There were no injuries, but two residents of the house were treated for shock.
Israel, for its part, said that the attack would not go unanswered, and that Israel would "choose the time and place for its response." Israeli officials said that it was possible that Hamas was trying to elicit an Israeli response to the attack while Obama was in the region, creating a diplomatic crisis when the President visits Palestinian Authority-controlled areas Thursday and Friday. If that is indeed their intent, the officials said, then Israel could expect more rocket attacks during Obama's visit.
Israeli officials added that they were interested in seeing if PA chief Mahmoud Abbas condemned the attacks when he spoke with Obama Thursday afternoon, something he had not done at all during the period leading up to Operation Pillar of Defense, when Hamas and other Gaza terror groups fired thousands of rockets at Israel.
In an interview on Israel Radio, Yossi Haziza, whose house was damaged in Thursday's attack, said that while physical damage – to houses and people – could be repaired, the real damage by attacks like these was to the psyche of the victims. Haziza's wife and child were sleeping at the time of the attack, and the shock of the attack caused them a great deal of fear that he was unsure they would ever be able to ovecome.
"I don't know how we are going to deal with this," he said. "The terrorists fire whenever they want and however they want and we seem unable to stop them. Apparently we did not do a proper job in stopping them in Operation Pillar of Defense.
"It could be that Hamas is doing this in 'honor' of Obama, sending him a message before he goes to Ramallah that he had better not forget about them," Haziza continued. "But so what? Because they want to send a message to the president we have to suffer? Are our children supposed to be sitting ducks for diplomatic reasons? Now they have to grow up with these negative experiences. Who knows what the damage will be later on? We need to be properly defended, regardless of diplomatic issues."