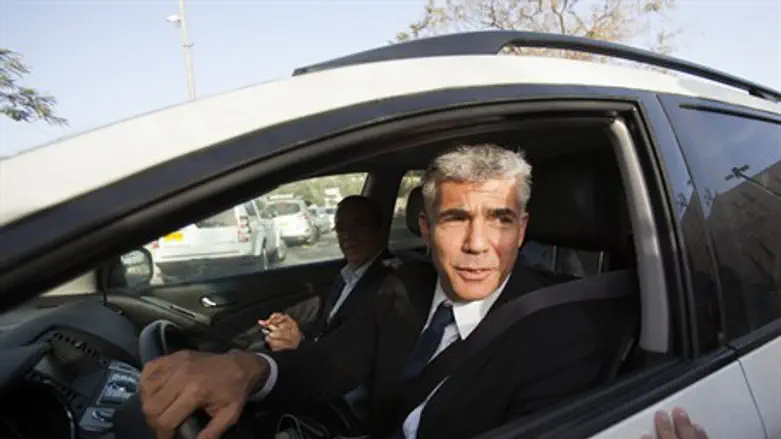 Yesh Atid's Yair Lapid
Israle news photo: Flash 90
Yesh Atid head Yair Lapid, the newly appointed Finance Minister, plans to skip this year's pre-Passover sale of the government of Israel's chametz (leavened bread products), Yisrael Hayom reports.
He will be replaced by Education Minister Shai Piron, who is number two on the Yesh Atid list.
Lapid's planned absence from the annual tradition, in which the Finance Minister normally takes part, raised suspicions. "Apparently Lapid is still afraid of having his picture taken with hareidi-religious Jews," sources in the Rabbinate were quoted as saying.

Lapid is widely perceived as anti-hareidi in the hareidi-religious community. The hareidi-religious Shas and Yahadut Hatorah (United Torah Judaism) parties have accused him of simply not wanting hareidi representatives in the government.
He also caused upset with his declaration that he plans to seek state financial support for non-orthodox Jewish movements and to promote civil marriage.
Lapid's staff said his absence from the chametz sale has nothing to do with his feelings for the Rabbinate or with a desire to avoid being seen alongside hareidi-religious Jews. Lapid is simply too busy to attend, they said, adding that the new finance minister has decided to spend his time dealing exclusively with the 2013 budget.