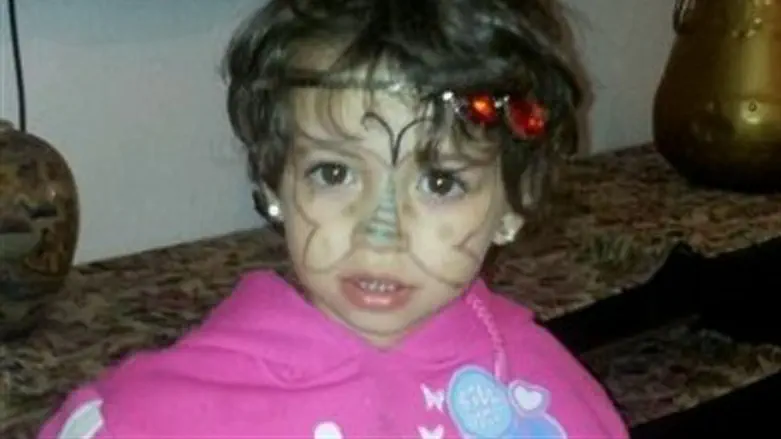 Baby Adelle
Courtesy: Biton family
Baby Adelle Biton's condition has worsened and she is in critical, life threatening condition at Schneider Children's Hospital in Petach Tikva.
"We regret to say that Adelle's condition is deteriorating and we ask the entire public to pray for her health," her father, Rafi, said Tuesday. Adelle should be referred to in prayers as Adelle Chaya Bat Adva.
Adelle's mother, Adva, was listed in moderate to serious condition after the attack by rock-throwing murderous terrorists, which caused her car to crash into a truck. Two other daughters, Naama and Avigayil, suffered moderate wounds. The family lives in Yakir.
There has been a surge of attacks against Jewish motorists in Judea and Samaria in recent months. Large rocks thrown at a moving vehicle can easily cause death or serious injury, as they pass through the windshield at a speed greater than that at which the car is moving on the road. Additional injury can be caused if the driver veers off the road, as happened with the car driven by Adva Biton.
The IDF, which was established in order to defend Jews from those who try to kill them, has adopted a lax policy toward Arab terrorism of this kind, however, during Ehud Barak's tenure. MK Moti Yogev (Bayit Yehudi) predicted Monday that the new defense minister, Moshe Yaalon, would toughen up on this kind of attack.