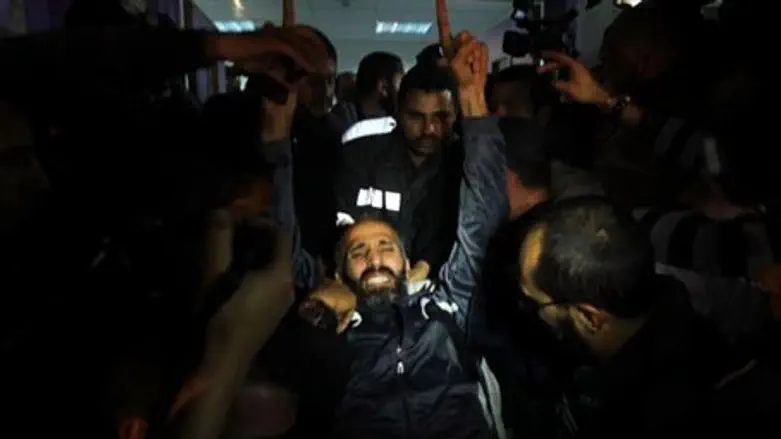 Ayman Sharawna
AFP photo
Israel has rewarded a hunger striking terrorist prisoner with freedom - as well as a ten-year exile to Gaza.
AFP reported that Ayman Sharawna, a prisoner who was on long-term hunger strike, arrived in Gaza on Sunday evening after inking a deal with Israeli officials.
Sharawna reached a deal under which he was freed from prison but exiled from the Judea and Samaria region to Gaza for ten years.
He was met at the Erez border crossing from Israel by a PA ambulance which took him to hospital for examination, officials at the border told AFP.
Sharawna was one of four terrorist prisoners refusing food for months over the conditions of their detention by Israel, whose cases sparked expressions of concern from the United Nations and the European Union.
Earlier on Sunday the Ramallah-based Prisoners' Club told AFP about Sharawna's deal.
"Palestinian prisoner Ayman Sharawna, who has been on hunger strike since mid-July, has reached a deal with the Israeli side under which he will be released to Gaza and exiled there for 10 years," Qadura Fares, head of the Prisoners' Club, told the news agency.
Israel's Israel Security Agency (Shin Bet) said that Sharawna, a member of the Hamas terrorist group,  would be allowed to go home after his exile if he was not involved in terrorism.
"It was decided that after 10 years he would be able to return if it is concluded that he has not gone back to terror activity," it said in a statement.
Sharawna, 36, who was arrested in 2002 and sentenced to 38 years behind bars, but released in October 2011 under the deal which saw Israel release more than a 1,000 terrorists in exchange for Gilad Shalit, who was held captive by Hamas terrorists for more than five years.
Sharawna was rearrested three months later and charged with violating the terms of his release, and began refusing food in July.
Palestinian Authority Arab terrorist prisoners have turned hunger striking into a pressure tactic aimed at forcing Israel to release them out of fear for their lives. Israel has several times in the past caved to the pressure and released some hunger strikers.
On February 28, Jaafar Ezzeddine and Tariq Qaadan, ended their three-month hunger strike after refusing food for three months, pending a hearing on their case.
A fourth hunger striker is Samer Issawi, a terrorist who is currently hospitalized at the Kaplan hospital in Rehovot after intermittently refusing food for eight months.
Like Sharawna, Issawi was freed under the 2011 swap deal but rearrested last year on charges of violating terms of his release.
A court has handed Issawi eight months for violating his parole. However, because of a military order governing the terms of his release, Issawi's fate will only be determined by a second hearing at an Israeli military court on March 21.
That hearing could see him being sent back to jail for years.
Hamas's Prime Minister in Gaza, Ismail Haniyeh, has urged PA Arabs to continue what he termed the "prisoners' intifada" to support terrorist detainees in Israeli jails.
"We will fight in all arenas, take responsibility and pay the toll for the sake of their freedom," Haniyeh said two weeks ago.