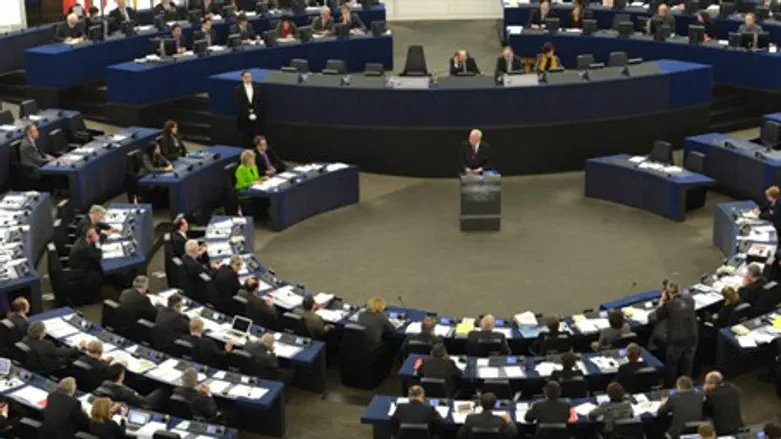 European Parliament
Flash 90
Britain's Labor Party suspended Pakistan-born Muslim peer Nazir Ahmed on Thursday over reports that he blamed a Jewish conspiracy for his imprisonment over a fatal car crash.
Ahmed, who was imprisoned for dangerous driving after sending multiple text messages shortly before the accident, had blamed his jail sentence on pressure placed on British courts by Jews "who own newspapers and TV channels", the Times of London reported.
He allegedly told a Pakistani television station that the judge who jailed him for 12 weeks was appointed after helping a "Jewish colleague" of former prime minister Tony Blair during a case, according to a translations of his Urdu language comments obtained by the newspaper.
"The Labor Party deplores and does not tolerate any sort of anti-Semitism. Following reports in The Times today we are suspending Lord Ahmed pending an investigation," a party spokesman said.
Lord Ahmed, 55, who was appointed Britain's first Muslim peer in 1998, also maintained that the plot to stemmed from Jewish disapproval of his support for the Palestinians in Gaza.
He reportedly repeated his comments during a television interview in Pakistan, which was said to have been broadcast last April, according to The Times.
"My case became more critical because I went to Gaza to support Palestinians. My Jewish friends who own newspapers and TV channels opposed this," he allegedly said in the interview.
While Ahmed has denied that he ever gave the interview, the newspaper said it sent a copy of the transcript to his lawyer for review.
Ahmed's car hit a stationary vehicle on a motorway in northern England on Christmas Day in 2007, killing the 28-year-old Slovakian driver. He pleaded guilty to dangerous driving and a judge sentenced him to 12 weeks in jail in February 2009 after hearing that he sent five text messages in the minutes before the crash.
The party suspended Ahmed in April 2012 over reports that he offered a $15.9 million bounty for the capture of US President Barack Obama and former president George W. Bush. He denied the comments and was later reinstated.