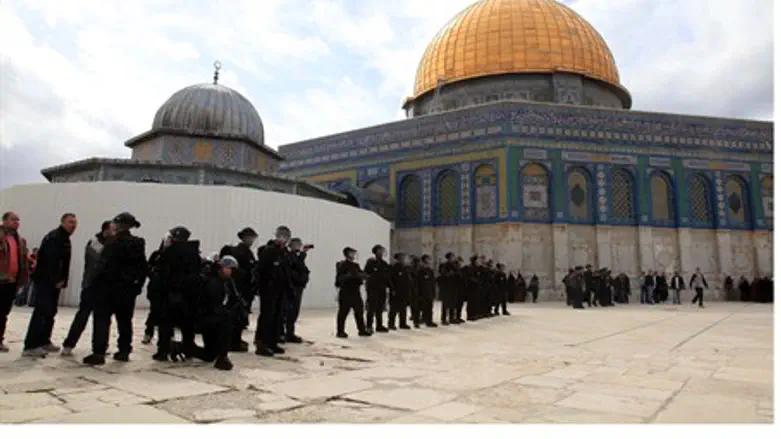 Mosques on the Temple Mount
Flash 90
Worshippers started throwing rocks at security forces, Friday afternoon, at the end of Muslim prayers at Temple Mount mosques in Jerusalem's Old City.
Police stationed at the Mughrabi gate broke in and began to throw stun grenades to disperse the stone throwers.
The rioters responded with firebombs. One policeman was lightly injured and taken to hospital. A number of demonstrators were also injured.
Police spokesman Micky Rosenfeld said that about 100 protesters, many of them masked, attacked police, who fired stun grenades in response.
 "Petrol bombs were thrown at police," he told AFP. "Several police officers were injured by stones that were thrown and were evacuated to hospital."
An AFP journalist at the scene said the clash was triggered by Palestinian media allegations that a policeman at the compound, one of Islam's holiest
sites, on Sunday kicked a holy book and trampled on it.
"That's completely incorrect," Rosenfeld said, adding that the Koran in question was being held by one of a group of women seeking to block a visit to
the compound by Israelis when the book fell by accident.
"They blocked them with a bench and one of the women who was sitting on the bench was reading a Koran," he said.
"When the bench was removed from the area the Koran fell on the floor. The Koran was picked up and returned to the lady and there was no misconduct by
any of the police."
credit: פלאש 90
credit: פלאש 90
credit: פלאש 90
credit: פלאש 90
credit: פלאש 90