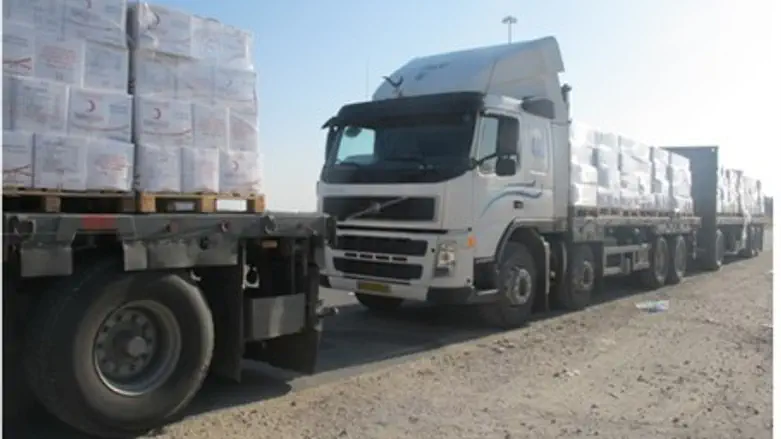 Transfer of goods to Gaza
COGAT
A spokesman for the Coordinator of Government Activities in Judea, Samaria and Gaza (COGAT) announced Wednesday that Israel had approved the transfer of three trucks of food supplied by the Turkish government and the Red Crescent to Gaza through the Kerem Shalom crossing.
According to the spokesman, the equipment arrived in Israel a few days ago through the port of Ashdod, where it was unloaded and then transferred to the Kerem Shalom crossing.
As well, Israel has approved the entry of the head of the Turkish Red Crescent Society through the Kerem Shalom crossing, the COGAT spokesman said.
This Turkish contribution to Gaza is part of several Turkish contributions that were recently approved, including a request last month by the Turkish government to send construction materials, medical equipment and 20 engineers and other experts into Gaza.
The shipments and personnel that were sent last were month are a part of a plan to build a new hospital for central Gaza residents on the ruins of the former Jewish community of Netzarim, located in the Gush Katif region.
The Kerem Shalom crossing was closed last week following a rocket attack aimed at the southern coastal city of Ashkelon by terrorists in the Hamas-ruled area.
The crossing was to re-open Monday but the terrorist government in Hamas attempted to replace the current crossing operator – hired by the Ramallah-based Palestinian Authority government -- with a contractor of its own.
This prompted the current contractor to close down the crossing altogether and simply go home, leaving more than 70 flatbed trucks of foodstuffs and other goods to remain at the border crossing.
Israel continuously allows humanitarian aid into Gaza, despite Hamas's claims that there is a "siege" on the region. Israel has approved internationally funded and monitored projects in Gaza.