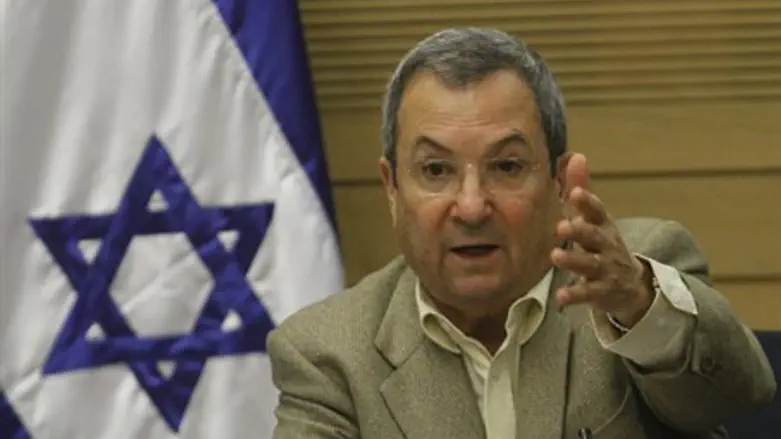 Ehud Barak
Flash 90
Defense Minister Ehud Barak will be the first foreign counterpart to meet with new U.S. Defense Secretary Chuck Hagel, it was reported over the weekend.
The reports said that Barak and Hagel would meet at the Pentagon on Tuesday.
A U.S. official said the talks between the two would include discussions on Iran, but did not offer details, saying only, "The secretary is honored that Minister Barak will be the first foreign counterpart he will host at the Pentagon" and adding the two had known each other "for more than a decade."
The U.S. Senate confirmed Hagel to be secretary of defense this past week, ending an acrimonious nominations process
Hagel's nomination had been held up for over a week as several Republicans demanded a delay in the process in order to obtain and review information about Hagel's finances and transcripts of speeches that he gave to international organizations in recent years.
However even some of his strongest critics, including Republicans Bob Corker, Lindsey Graham and John McCain, eventually voted to end debate on the nomination and allow a floor vote.
The Republican Jewish Coalition, along with countless others, has cited a long list of Hagel's anti-Israel policies, asserting that his nomination would "be a slap in the face for every American who is concerned about the safety of Israel."
Hagel recently claimed in response that there is "not one shred of evidence that I'm anti-Israeli, not one (Senate) vote that matters that hurt Israel."
Nevertheless, reports about countless statements he has made against Israel over the years have surfaced in recent weeks.
Last week, a publication of Hagel's statements from a 2010 meeting with university students showed yet another anti-Israel statement.
Hagel reportedly said that Israel is becoming an "apartheid state," and dismissed Prime Minister Binyamin Netanyahu as "a radical."