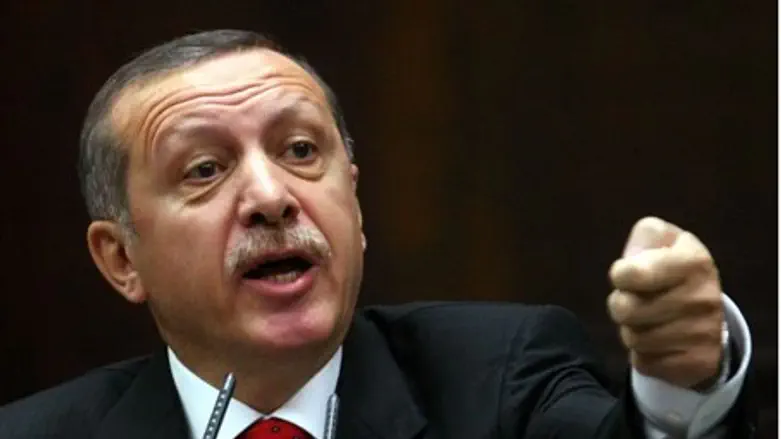 Turkey's Prime Minister Recep Tayyip Erdogan
AFP/File
The White House condemned on Thursday the remarks made by Turkish Prime Minister Recep Tayyip Erdogan, who compared Zionism with fascism in a public address.
"We reject Prime Minister Erdogan's characterization of Zionism as a crime against humanity, which is offensive and wrong," White House spokesman Tommy Vietor said in a statement.
"We encourage people of all faiths, cultures, and ideas to denounce hateful actions and to overcome the differences of our times," he added.
Erdogan used a speech about Islamophobia in Europe at the opening session of the fifth UN Alliance of Civilizations to attack the Jewish State.
"Just like Zionism, anti-Semitism and fascism, it becomes unavoidable that Islamophobia must be regarded as a crime against humanity," the Turkish leader told the gathering.
Over the past three years, Israel has made numerous efforts to repair the fractures in the relationship with Turkey that first appeared following Israel's Operation Cast Lead against Gaza terrorists in the winter of 2008-2009. 
Erdogan's Islamist rage over the Jewish State's air strikes on Gaza terrorist targets, launched to silence the constant rocket fire that had rained down from the region for years on southern Israeli communities, did not abate, however.
The subsequent deaths in May 2010 of nine armed men who attacked IDF commandos boarding a Turkish-owned vessel in an illegal flotilla attempting to breach Israel's maritime blockade of Gaza further worsened the breach.
Turkish leaders demanded an apology from Israel over the incident, but Israeli leaders refused, saying Israel had acted in self-defense. In response, Turkey downgraded its ties with the Jewish State.
Erdogan has repeatedly made things worse by verbally attacking Israel on a regular basis.
Prime Minister Binyamin Netanyahu sharply condemned Erdogan's remarks on Thursday evening, saying, "This is a dark and mendacious statement the likes of which we thought had passed from the world," Netanyahu said.
Bayit Yehudi chairman MK Naftali Bennett responded to the hateful statements by saying, "Our answer to all those who think that Zionism is a crime against humanity is to sit and study and then to get up and fight."