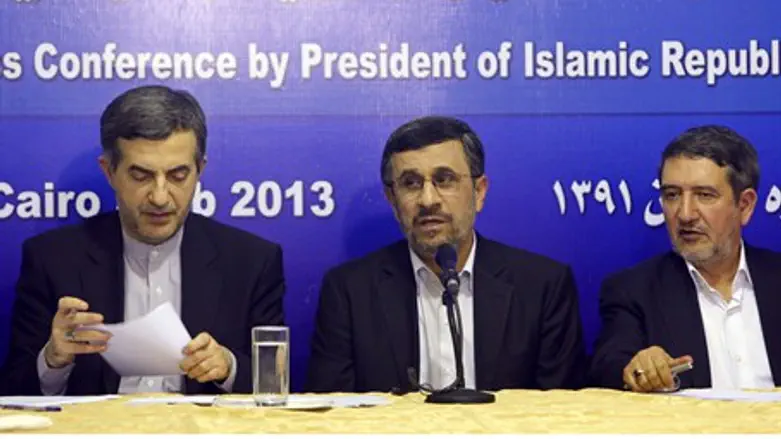 Iran's President Mahmoud Ahmadinejad
Reuters
A dozen more journalists have been arrested and jailed in Iran on suspicion of cooperating with Persian-language foreign media outlets. The detained journalists worked for the semi-official ILNA news agency, and five daily or weekly newspapers, according to Iranian media reports.
The arrested reporters were accused of having ties to "anti-revolutionary" media. The term is used by Tehran to refer to cooperation with international media outlets, particularly those deemed hostile to Iran. Tehran has specifically targeted the Voice of America and the British Broadcasting Corporation (BBC) in its crackdown on journalists over the past year.
The Committee to Protect Journalists (CPJ) has ranked the Islamic Republic, together with Turkey and China, to be among the world's most restrictive, and quickest to jail members of the media. At least 45 journalists have been imprisoned in Iran for their work, according to a December 2012 census, and the threat of jail has prompted many other Iranian reporters to flee abroad.
The Iranian arrests were strongly criticized by the independent agency that oversees the U.S.-based Voice of America broadcasting organization. In its statement, the Broadcasting Board of Governors condemned "the pattern of threats to the media in Iran," including harassment of family members, censorship of the Internet and frequent jamming of radio and television signals.
Several of the reporters had attended a meeting with former president Akbar Hashemi Rafsanjani, a leading opposition figure, one day prior to the arrest. Iran's Minister of Culture also commented that the charges faced by the arrested journalists were not related to their media activities.
Last month, Iranian authorities hauled in nearly a dozen journalists in a similar crackdown, accusing them of cooperation with foreign news outlets as well. As in the current operation, the reporters worked for four daily newspapers, one weekly and the semi-official ILNA news agency.
Six days ago, CPJ reported that Iranian authorities arrested Ehsan Mazandarani, a reporter for the reformist daily Eternad, calling it "part of a disturbing pattern of detention designed to stifle independent reporting ahead of the elections."
The organization said the latest crackdown began on January 27, which it called "Black Sunday," when Iranian officials detained at least 14 journalists affiliated with reformist news outlets. Four more reporters have been arrested within the past month, including Ehsan, in what the Iranian Intelligence Ministry claimed was a sting operation to round up members of a "nefarious spy ring affiliated with the BBC." CPJ dismissed the allegation, noting that Iran's government frequently uses the accusation as "an excuse for repressing local dissidents."
The International Campaign for Human Rights in Iran reported that family members of the detained journalists said they believe some of the reporters have been forced to give false confessions.