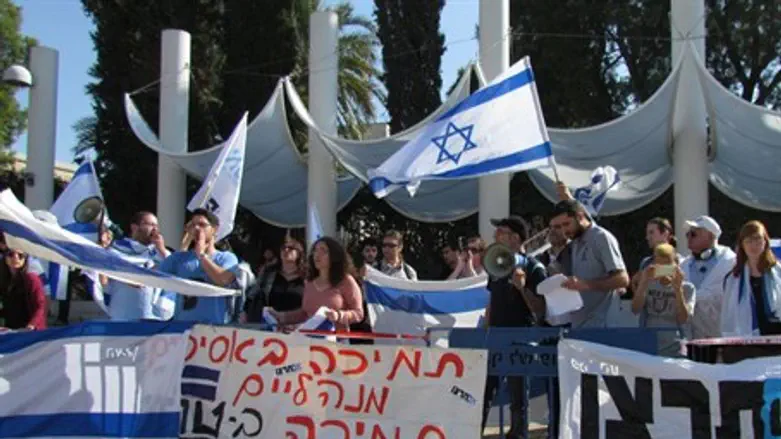 Im Tirtzu counter-protest
Oren Butbul
Arabs and leftists held a protest outside the Tel Aviv University on Wednesday, in support of the terrorist prisoners in Israeli jails.
The protesters called out racist remarks against Jews.
They were countered by Jewish students and activists of the Im Tirtzu movement, who held a counter-demonstration at the same time in support of the activities of the IDF and the Israeli security forces.
The counter-protesters made ​​it clear that supporting terrorists is a moral deformity, as they put it, and that anyone who supports terrorists being held in prisons "supports terrorism in general and those who act to harm innocent civilians."
Palestinian Authority Arabs have rioted and clashed with security forces in recent days, using the death of a terrorist prisoner as an excuse.
An autopsy conducted Sunday on the body of Arafat Jaradat, the terrorist who died at the Meggido Prison a day earlier, found that it is impossible to determine the exact cause of his death.
The PA's minister of prisoners, Issa Qaraqaa, nevertheless took advantage of the non-conclusive report to blame Israel for torturing Jaradat to death, citing the preliminary findings of the joint autopsy which reported bruises on Jaradat's body, muscle damage and broken ribs. Those, however, can be caused by resuscitation attempts, according to the autopsy.
Last week the Arabs' excuse for rioting was the long-term hunger strike by several terrorists as a pressure tactic to get Israel to release them.
credit: אם תרצו באוניברסיטת תל אביב
credit: אם תרצו באוניברסיטת תל אביב
credit: אם תרצו באוניברסיטת תל אביב