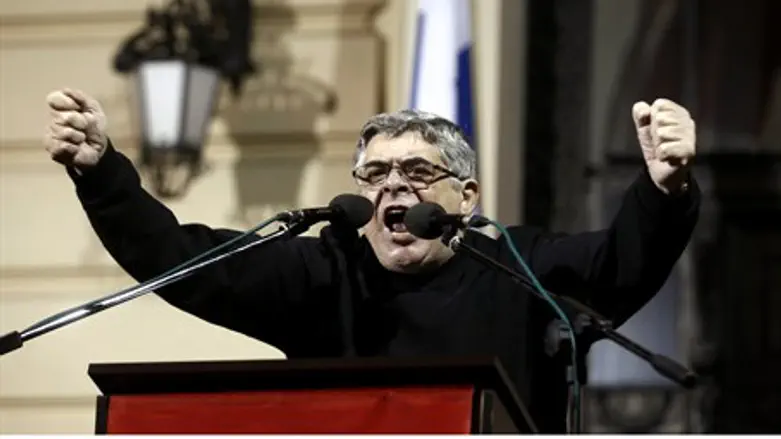 Golden Dawn party leader Nikolaos Mihaloliako
Reuters
Calling the election of neo-Nazi parties to European parliaments "one of the most alarming setbacks in the fight against anti-Semitism," the Anti-Defamation League (ADL) today urged members of the United States Congress to mobilize a united voice against the return of political anti-Semitism.
In testimony on Capitol Hill to the House Foreign Affairs Subcommittee on Africa, Global Health, Global Human Rights, and International Organizations, ADL highlighted egregious examples of anti-Semitic rhetoric by neo-Nazi parliamentarians during official debates, including reading from the infamous anti-Semitic forgery, The Protocols of the Elders of Zion, in the Hungarian and Greek parliaments.
"The United States must urge responsible foreign political leaders to take a strong stand against these neo-Nazi parties, using their bully pulpit and their laws," said Andrew Srulevitch, ADL Director of European Affairs.  "While there are many xenophobic parties in Europe, three stand out as true neo-Nazi parties: Jobbik in Hungary, Golden Dawn in Greece, and Svoboda in Ukraine.  Their political platforms are anti-democratic manifestos of racial purity, their anti-Semitism is blatant, and the first two have uniformed militias that assault minorities.  Unlike other xenophobic parties, they don't want to join the mainstream, but to upend it."
As part of its testimony to the House Subcommittee, ADL pointed to dozens of recent examples of virulently anti-Semitic speech, attacks against Jews and Jewish institutions, and anti-Semitic editorial cartoons appearing in newspapers.
Recently a far-right Hungarian lawmaker released a statement calling for a list should be compiled of all of the Jewish members of parliament and government.
"It is high time to assess many MPs and government members are of Jewish origin and who present a national security risk to Hungary," said Marton Gyongyosi of the blatantly anti-Semitic Jobbik party. The country's foreign ministry, he continued to state, had "rushed to make an oath of allegiance to Israel," following its recent defensive measures against terrorists in Gaza.
Moreover Greece's Golden Dawn party has become notorious for its blatant anti-Semitic and xenophobic rhetoric and has been responsible for perpetrating attacks on Jews and foreigners.
It openly displays copies of "Mein Kampf," as well as other works on Greek racial superiority at party headquarters and its party logo very closely resembles a swastika.
Party leader Nikos Michaloliakos has claimed that Nazi concentration camps did not use ovens and gas chambers to exterminate Jews during the Holocaust.
"There were no ovens — it's a lie. I believe it's a lie. There were no gas chambers either," Michaloliakos said.
The party campaigned under the slogan "So we can rid the land of filth" and holds frequent rallies, chanting "Foreigners out of Greece!"
A report by Human Rights Watch warned that xenophobic violence has reached "alarming proportions" in parts of Greece, and accuses authorities of failing to take the necessary steps to stop the trend.
Jews in the Ukraine too have expressed apprehension as leader of the anti-Semitic Svoboda party Oleh Tyahnybok delivered a speech in parliament in which he alleged that a "Muscovite-Jewish mafia" was controlling the Ukraine and threatened the country's very existence.
Tyahnybok also claimed that "organized Jewry" dominates Ukrainian media and government and plan to wage a "genocide" upon the Christian Ukrainian population.